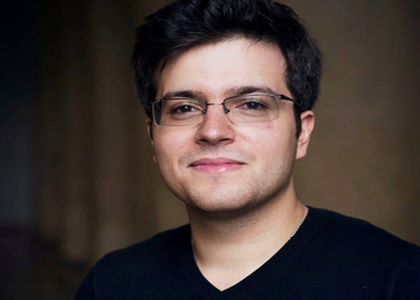 Interview with the pianist Florian Mitrea about the Piano Festival 'Hoinar'
Monday, 18 December 2017 , ora 12.55

Today, 14th December 2017, the second edition of the Hoinar Young Pianists Festival, organized by the Romanian Music Center and the pianist Florian Mitrea, in partnership with ARCEN, ends. From 18:30, at the headquarters of the Romanian Music Center in Henri Coanda Street no. 5, sector 1, Bucharest, a concert by the participants, but also by the initiator of this project, the pianist Florian Mitrea, will take place.
On the 11th of December, the piano festival you are organizing, called Hoinar, began. How did the first days of the event go?
The days were very full. I had the chance to meet with very talented participants from Bucharest and from the country. We have worked on some extremely beautiful and varied repertoires from Beethoven to Rachmaninoff and Ravel. They are very talented children, children who want to work a lot, to reach very high, which, in fact, is also the purpose of our meetings, to come to their support, and the workshops were very well received. Yesterday we talked about stage preparation, how you approach a new play, from the first readings, to the stage, and today we are talking about international contests, a necessary evil in the career of any musician. Today we still have masterclasses. Tomorrow we have a general rehearsal for the concert of the participants and again we will discuss how to repeat on a new piano, on an unknown piano. We have the chance to use here an innovative new piano that our main sponsor has lent us. And yet, sometimes there is a problem I have also faced with international competitions; the time you have with a new piano to try is very short and then it is very important to know exactly what to try. That's what we'll do tomorrow, and during the evening all the participants will play their part in a festive concert that I will attend. Like last year, we chose a maximum of 15 participants because I thought it would be better to work with a small group and to focus on the needs of everyone than to work with a very large group and then to teach at a general level. I preferred to walk on the peculiarities of each.
Ana Diaconu
Translated by Grecu Iolanda,
MTTLC, year 2