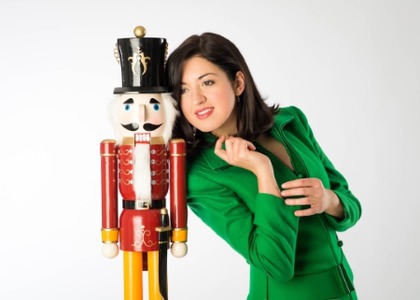 Interview with pianist Alexandra Dariescu
Thursday, 21 December 2017 , ora 10.46

Pianist Alexandra Dariescu will present today at the Barbican Hall in London the project The Nutcracker and I, a multimedia event comprising the music of Tchaikovsky in various reference piano arrangements. The audio and visual show will be completed by ballerina Désirée Ballantyne and the animations made by the Yeast Culture company. The artist was kind enough to offer us some details.
From what I've heard, The Nutcracker and I is a special project dedicated to Christmas. What exactly does it represent?
It's a very special project. This concert format has never been performed anywhere else in the world. It's actually a piano recital based on Tchaikovsky's music, in various arrangements, with a ballerina and digital animations. So the nutcracker's story is told through the music of the piano and the ballerina who plays the art of Clara, and the other characters are digital animations.
Clara will be played both by you, at the piano, and the ballerina, not just by the ballerina.
Yes, it's true. The story is rewritten. Naturally, we took inspiration from Hoffmann's work, written over 201 years ago, but it's about my dream since I was little, a dream about becoming a great pianist, and after I become one I watch these animations and the ballerina and I show the public what goes on in my mind when I play. Many of my fellow pianists or classical musicians in general think of colors or words when they play. I always have images in my mind and I am truly happy that I can show the public what I'm thinking of, what I'm imagining when I'm playing.
So we have the opportunity of discovering a new side of Alexandra Dariescu through this project.
Yes, it's a project I've been working on for over two and a half years. I won't lie to you, there were ups and downs, but I have an extraordinary team that gave their heart and soul in this. The digital company I work with went touring with Sir Simon Rattle and the Berlin Philarmonik. They are at the highest level I could have hoped for. In the last six month I've had 29 animators who designed everything by hand. Each second of animation require 12 drawings. So it really was a lot of work, not only for me - I had to learn the arrangements, the most demanding I've ever played - but also on the technological side of things - they had to push all their limits and, in a way, when we started rehearsing ten days ago it basically was something impossible that we had to make possible.
Interview by Radu Mihalache
Translated by George Arion jr.,
MTTLC I, Universitatea București