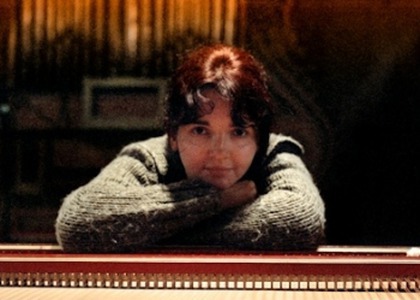 'Non solo Bach' – musical performance hold by the clavecinist Cipriana Smărăndescu at National University of Music Bucharest
Thursday, 4 January 2018 , ora 13.13

The clavecinist Cipriana Smărăndescu will hold Friday, 22 December 2017, a musical performance on the stage of the National University of Music Bucharest. The event titled 'Non solo Bach' will be dedicated to the memory of Mrs Ogneanca Lefterescu and will mainly consist of bachian opposites. "It was a history which we were writing without wanting, a history that we must not forget, a silence and quiet history born neither on the market nor on Facebook, but in front of black and white keys, drawings with ornaments or the few scores that we had that time.", said Cipriana Smărăndescu, remembering the early years of the harpsichord class from the National University of Music Bucharest. More to come in the next interview:

I say 'welcome' to the radio listeners and I invite them tonight (Friday, 22 December 2017) to an event extremely important for me. It is a musical performance that I will dedicate to my teacher, Mrs. Lefterescu, who unfortunately passed away this summer. There are a lot of things that connect me to Mrs Lefterescu because 24 years ago, basically, we were two crazy musicians who were bringing round the harpsichord class from the Academy of Music from Bucharest at that time; she was the first teacher of harpsichord, and me, from the curiosity of understanding the universe of sonatas of Domenico Scarlatti, I was her first student. It has been a collaboration and an extremely beautiful friendship because, besides being a wonderful teacher, Mrs Lefterescu has been also a friend of all the students who were attending the harpsichord class. She was like a parent. She infused us this love, this enormous passion for the instrument. Moreover, the atmosphere it was that of conservatives from Netherlands, where a teacher, a disciple, a great master or a beginner are friends who meet to make music together. I can say that the most powerful emotion for the musical performance of this night I will have it, because indeed Mrs Lefterescu made me love this instrument and she made me take this passion even to my students. Room 129 of the Music Academy it was always open for those who wanted to sing to the harpsichord, to get to know this instrument and I think that it was a musical life connected to the harpsichord very important at that time, fact that I want to recover this night at the concert Hall of the Academy.

"Non solo Bach" is the title of this musical performance. What will listen those who will be present at the National University of Music Bucharest?
I will start with Chromatic fantasy and Fugue in D minor of Bach - a work which alternates moments of fantasy very freely interpretatively with an extremely rigorous run. Then, will be another two moments which I have already registered on the CD-s that I made up to this point - it is about the Suite for harpsichord in G major by Christian Petzold, which includes the famous minuet that is said to be Bach's, but it wasn't written by Bach, but by one of his collaborators. Then, a series of fragments both from the album for Anna Magdalena Bach, and from the one for Wilhelm Friedemann Bach, precisely to illustrate this family music in the world of baroque, which it was performed ever since Bach's time, and the atmosphere of the harpsichord class that I recovered many years ago… I will end with a very beloved work, Toccata in E minor by Johann Sebastian Bach, a work that I think I have studied in my first year of conservatory with Mrs Lefterescu. I think the biggest part of the programme was learned during the studies from Bucharest.
ze:14.0pt;font-family:"Times New Roman","serif"'>We have to perform up until the 29
th
of December and this year we hope to finally be able to celebrate New Year's Eve in the family. We've had a very, very rich schedule. On the 29
th
we'll finish. So, we've recently had these two concerts with Paula Seling; on the 25
th
of December, in the Constitution Square, the Bucharest Symphonic Orchestra with Andrei Tudor as the conductor and me at the piano; on the 27
th
-28
th
- a Marcel Pavel concert at the Bucharest State Circus, again with a big symphonic orchestra. We actually have 140 people there because we also have choirs and children's choirs. The whole period is full. This makes us happy and we always try to make every event be special.
Interview made by Lucian Haralambie
Translated by Elisabeta Motoi,
MTTLC 2ND YEAR, University of Bucharest