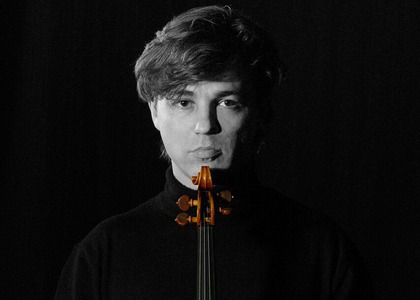 Interview with the violinist Manrico Padovani
Thursday, 4 January 2018 , ora 13.24

On 8 January 2018, Calea Victoriei Foundation organizes at the National Theatre from Bucharest the traditional New Year's Concert. Among the guests of this event are the Swiss violinist Manrico Padovani, who kindly gave me this interview:
Manrico Padovani, you will start the year 2018 in Romania, in Bucharest, singing with the Symphactory orchestra and the conductor Tiberiu Soare. What expectations do you have of this experience? Is it for the first time you will sing in Bucharest?

My connection with Romania started several years ago, when I was invited to sing and record Concerto no.1 by Paganini with Oltenia Philharmonic from Craiova. I feel very fortunate that I can start the new year 2018 with a concert in Bucharest, which will be my debut in the Capital, playing the same concert. It is an honour to sing in this beautiful city, so rich in cultural traditions, inspired by personalities such as Enescu, Celibidache or Silvestri. I am very excited and look forward to collaborating with Symphactory Orchestra and master Soare and I am very glad for choosing this wonderful Paganini concert.

Let's start from the beginning… Could you identify a moment in your life when you realized 'Yes, music - that's what I want to do!'
I was born in a non-musical family, so the violin was not in my genes. One day, most likely in my childhood, I happened to see a film about Niccolò Paganini's life. I think that was the magic moment, besides the fabulous life of the artist and his personality, I was very, very impressed by the violin art. From that point I knew - I'll become a violinist!
At first, this decision was a great surprise for my parents because I was a very active child, and that did not fit well with the preconceived idea that classical musicians are quiet, silent people. But I struggled for my desire and did not care about the opinions of those around me. I decided to find my first violin, and that's what I did. After that, my father not only agreed to my difficult decision, but offered me all the support in the future.

What were your musical idols in the formative years?
I really enjoyed listening to records with J.Heifetz, A.Grumiaux, L.Kogan ... One of the idols that I still love today is Andrei Korsakov, a great violinist and Russian conductor, which we have unfortunately lost far too early (1946-1991). From a happy event, I listened with him to a recording of H.W.Ernst's 'Otello's Fantasy', and from the first notes it brought my heart alive. I love his sound, so strong and sensitive at the same time, nostalgic and very clear, obviously. I am lucky to sing his violin (which he sang in Bucharest in the 80s), a fabulous instrument G.Roggieri (Brescia), with which I alternate Stradivarius violin from one concert to another.

On 8 January, you will play Paganini Concerto No. 1. What is your relationship with this work, which I know you have registered?
This concert, along with No.2, has always been one of my favourites. The difference between this show and others are some recitativo points that offer many possibilities to the singer to express himself. There is a frightening moment also: double flageolets from the third movement. No one can guarantee whether they will succeed or not, no matter how much you have studied before. The second movement of the Concert is perhaps the most dramatic of all the compositions of Paganini. In essence, he speaks of a prisoner sentenced to death, who rethinks all his life and destiny. Every time I play this part, it strikes me in a very moving way.

You are the first Swiss violinist to play all 24 Op.1 Caprices. What do you think any violinist could learn from Paganini's personality?
Besides being an exceptional violinist, Paganini was also a revolutionary inventor for the violin world. Numerous instruments of his generation and of the future, such as H.W.Ernst, C.Sivori, Ole Bull, H.Vieuxtemps, E.Ysaye, P.de Sarasate, as well as contemporary violinists and colleagues of mine are still influenced by this incredible musician. Although he apparently had no technical limitation, he always tried to look for new things, unheard things up to him. The double flageolet, pizzicato with both hands, the use of the highest positions, or the imitation of bird notes on the violin are just a few of its innovations. He is an example of unconditional love for the violin, it meant everything to him, even when health brought him many inconveniences. I think we can still learn from him how to be open minded, passionate about experiments, fearless when it comes to the new, and how not to be content with the easy way.

What other artists do you like, from any musical genre?
My musical tastes are wide and diverse. I admire the great opera singers for their incredible creativity in terms of human voice. I also like to listen to jazz, pop, musicals, even rap. Jimi Hendrix, Pink Floyd, Jaques Brel are certainly unforgettable names.

If you could have had a career in another field, what would that be?
It would have been in an area where it is possible to dream: actor, lawyer or physicist. About the last change: I have always been fascinated by the unlimited power of physics.

If a young violinist comes to you and asks for advice on his career, what would that be?
It is important to build a good network and at the same time stay authentic without trying to imitate someone.
Interview made by Radu Mihalache
Translated by Elisabeta Motoi,
MTTLC 2ND YEAR, University of Bucharest