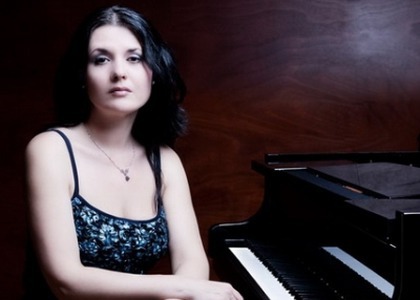 Pianist Raluca Știrbăț and cellist Rudolf Leopold in an extraordinary concert in Bucharest
Tuesday, 9 January 2018 , ora 12.00

On Wednesday, January the 17th 2018, starting from 19.00, Radio Romania Music, the Austrian Cultural Forum and the Cotroceni National Museum will organize the extraordinary concert "Musical bridges - bridges between past and present, bridges between cultures", a concert under the sign of the Great Union Centenary and the National Culture Day, celebrated on January the 15th.
Romanian pianist Raluca Știrbăț and Austrian cellist Rudolf Leopold will perform in Bucharest, for the first time, a sonata by Constantin Silvestri, whose score was thought lost: the Sonata op.22 no.1 for cello (bassoon) and piano. It was performed only once, at the first audition in 1941, as the score was lost until 2017, when it was found again by Raluca Știrbățin Vienna as a result of thorough research.
Pianist Raluca Știrbăț, the Guest of the Week at Perpetuum Mobile, told us about the full schedule of the evening of January 17th 2018 and gave us some details about the event.

How did you come across the sonata by Silvestri that you will perform for the first time in Bucharest and what musical features does it have?
The sonata is very interesting. It was composed in 1941, so this isn't a work from Silvestri's youth. We know he destroyed his first cello sonata, even though it had won him the Enescu prize for composition. It's an extremely modern language, I would say, at some points even atonal - actually, atonal at rather numerous points. It's about 12 minutes long, as the composer himself carefully wrote on the score, which is something that Silvestri did with all of his manuscripts. He used to write his recommended length at the end of each work. It has two main parts. It starts off with a cello solo; then comes a slow part, and the second part is extremely fast, with a double whole note (breve) at 160, so it's almost a presto. It's a very interesting work and it demands virtuosity from both the cello or the bassoon and the piano. The role of the pianist isn't even remotely one of accompaniment. He or she is fully involved in what happens there musically. We know very well that Silvestri was a great virtuoso of the piano. In my opinion, the score has some quotations or tributes not only to Mihai Jora, Silvestri's composition professor, for whom the work was written, but also to George Enescu, because the famous X cell made up of a semitone and a large second appears, I would say, rather obstinately. Regarding the actual discovery of the score, our path as researchers has always been a mix between actual research work and strokes of luck. The score was discovered in a private collection of the honorary consul in Austria, Gerhard Egermann. Its origin is somewhat mysterious because the score, the actual sheets of the sonata, were found among newspapers from the 40's. We can assume that it reached Vienna alongside Silvestri, because we know that Silvestri collaborated on various occasions with the Vienna Philharmonic. Or it might as well have an uncertain origin, an uncertain itinerary via Bucharest. We'll probably never know for sure. What is important is the fact that it was found again and that both cellists and bassoonists have a new work available for their repertoire, a valuable Romanian work.

What more should I say with regards to the Sonata op.22 no.1 for cello and bassoon or piano… In the manuscript, Silvestri says it was written in the summer of 1941 in Predeal, at the Villa Kremer. It was written for a surprise-concert, an anniversary concert. It was Silvestri's idea - a concert dedicated to Mihail Jora, who was turning 50. For this concert, several of Jora's students or ex-students wrote some works; among them, the Sonata for left hand op.10 by Dinu Lipatti, for instance, which was also performed for the first time in audition by Lipatti, on the evening of November the 8th 1941, of course, in the Orpheus Hall, ex-Jean Feder - this was the famous music store on 44, Calea Victoriei. That evening, the Sonata was performed in the arrangement for bassoon and piano, with bassoon player Dumitru Alexandrescu. At the end of February 1942, the sonata was performed in its arrangement for cello and piano, with Silvestri on the piano and well-known cellist Ion Fotino.

The programme for the recital on January the 17th also features piano solo works by Berg, Brahms, Enescu and Bartok. The event is, of course, under the sign of the Great Union Centenary and the National Culture Day. Why this choice of works?
I think they are very obvious choices, so to speak. In my opinion it's a well-rounded, beautiful programme. We'll start with the Nocturna and Saltarello by George Enescu, which he composed in Paris when he was 16. A fortunate coincidence is that the manuscript of this work was also rediscovered, very late, this time in America, in 1994 if I'm not mistaken. This goes to show that research still hold surprises. In this charming work, we can rediscover Enescu in his adolescence, still nostalgic about Vienna and the Viennese classicism. There's a lot of Schubert in there, a lot of Beethoven, a lot of Brahms, but with the young Enescu's clear mark. This is how we followed the red line and made the connection with the Sonata in E minor for cello and piano by Johannes Brahms. As we very well know, Brahms was one of George Enescu's idols. The two actually met and Brahms remained a constant inspiration for Enescu. After that, we're still in Vienna, but we pass on to the 20th century - the famous Sonata for piano op.1, a work of reference from the new school in Vienna. It can still be placed in B minor, because it tries to break the barriers or stress the limits of the tonality, while still remaining in a tonal, albeit complex and refined, frame. I will also perform two works by Silvestri, the Concert piece op.25 no.3 and the famous Bacchanalia, because the audience always greets them warmly. I decided to include the Concert piece because there are some very interesting parallels with the rediscovered Cello sonata, which the audience can enjoy for the very first time. We'll finish with Romanian dances in an arrangement for cello and piano, with Rudolf Leopold's personal mark - he is also a composer and a music arranger. He is an extremely complex musician. I should say that he started his musical career in his childhood with the piano, which is quite rare nowadays. He is a virtuoso of the piano. He takes a seat at the piano and always accompanies his students… It reminds us a little about George Enescu and a generation of musicians who saw chamber music not as a Cinderella, but as a way towards musical fulfillment.

It thinks it's a beautiful programme, a diverse programme, a programme where the audience can listen / re-listen to masterpieces of the Viennese classicism, to Romanian music and to a very interesting music of the 20th century. At this point, I would like to thank our hosts at the Cotroceni Museum and especially Radio Romania Music and Mrs. Cristina Comandașuwho very enthusiastically and very carefully oversaw the organization of the concert, as well as the Austrian Cultural Forum, which understood the importance of the event and admirably supports us - and all this on very short notice.

Tell us about the collaboration with cellist Rudolf Leopold from your point of view.
I've had the joy and privilege of knowing Rudolf Leopold for many years now, almost two decades. I think that we've had the opportunity to play together very shortly after my arrival in Vienna. Among other things, we also recorded a very interesting disc together at Hungaroton in Budapest - the Trio for violin, cello and piano by Pancho Vladigerov, alongside violinist Édua Zádory. After that, our concerts simply grew in number. We already have the Complete cello and piano works by George Enescu under our belt, so to say, we performed them in concert and are trying to record them as quickly as possible on disc, depending on our schedules and agendas - it's not easy coordinating all of this while also having to play a lot of chamber music, both from the classical romantic repertoire and the music of the 20th century, as well as Romanian music. Rudolf is passionate about George Enescu, which makes me very happy and I was so, so glad to accept the invitation of playing the sonata and this programme in Bucharest. We've already performed it in the world premiere after its rediscovery, in November, at the famous Konzerthaus in Vienna.

What's next for you after the recital on January 17th at the Cotroceni National Museum?
I have several ongoing projects, both strictly on the piano as well as editing books or scores. We are now working with the Grafoart publishing house on the revised edition of Enescu's scores for piano solo and there will be more surprises, so please allow me to talk about them when they will actually become reality.
Interview by Lucian Haralambie
Translated by George Arion,
MTTLC I, Universitatea București