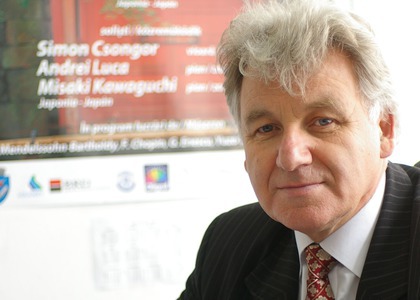 The Entertainment Music Festival from Târgu Mureș is about to start
Thursday, 11 January 2018 , ora 11.42

The new year opens with the second edition of the Entertainment Music Festival in Târgu Mureș. How will the programme of this edition look like?
There are a few exceptional concerts. Of course there are here two elements of tradition. First of all, I would like to wish a happy new year filled with joy, health and achievements to you and to your audience, because I am a listener of your radio as well and I am happy to have this opportunity to present a few thoughts about the events of our Philharmonic. The idea of this festival caught on in the last few years, because the Extraordinary New Year's Concert, for instance, has a tradition for over four decades. And we have also organized special concerts on New Year for over 15 years and it came to me this idea of having an exceptional artistic manifestation throughout the entire month of January, which will be revolving around the entertainment music. Therefore, the second edition of the festival from this month, two extraordinary concerts for New Year in January, to which we have invited an outstanding conductor, famous in our country and abroad. I am talking about conductor Jin Wang. He will conduct a Johann Strauss programme, and the second concert will be conducted by Shinya Ozaki, our permanent conductor from Japan. It's a more interesting and more diverse programme. Then the exceptional soprano Daniela Păcurar will honor us this year again with her presence. There will be another exceptional concert held on 23th and 25th January, a concert of Argentinian and Romanian tango entitled From traditional to Piazzolla. It will be conducted by József Horváth from Cluj, and among the guests of our orchestra are the singer Alina Selis and the pianist Mariano Castro. All these six concerts that will be held in January are already sold out.

And giving that it is the beginning of the year, allow me to ask you what have you prepared for the next months of the season?
We will have until June - when the 2017-2018 season ends - a series of exceptional vocal-symphonic, symphonic and opera concerts. In the concert from April we will sing Verdi's Nabucco; another extraordinary opera concert with famous arias from opera and famous opera choirs will take place in March. The concerts with music from movies represent another traditional element in our seasons and finally it gives me great pleasure to talk about the 48th edition of the Târgu Mureș Musical Days Festival from this year. The entire month of May is organized around this festival which contains a large variety of programmes, starting with the symphonic, vocal-symphonic, chamber and choral programmes. We are happy to be part of the project called International Week of New Music every year.

This year we are celebrating the centenary of the Great Union. Did you choose to mark this event somehow?
Of course we did. We have thought since September to a few special moments, which will praise the Romanian music and then, around the time of the event, we will conclude accordingly, with a series of programmes which will emphasize the beauty of the Romanian music.
Interview by Ana Diaconu
Translated by Maria Zorila,
MTTLC 1st year, University of Bucharest