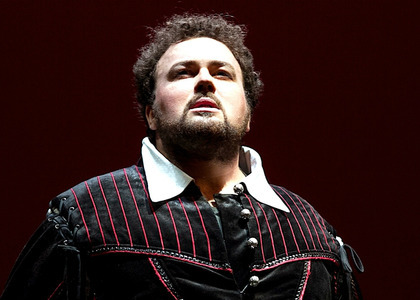 Interview with tenor Ștefan Pop
Friday, 12 January 2018 , ora 12.27

On January 12, 2018, at Regio Theatre in Parma takes place the first of a series of six shows with the opera "Rigoletto" by Giuseppe Verdi. It's an anniversary show - a half-century career of baritone Leo Nucci - the interpreter of the Verdian character. Together with Leo Nucci, the Romanian tenor Ștefan Pop will perform on stage the Mantua Duke's score. More details about this series of shows I found out from Ștefan Pop himself:

Today is the last rehearsal, it is the general rehearsal before an anniversary show.
Yes, it is. Firstly, it is a show by an Italian director, Pier Luigi Samaritani. It was done 30 years ago, that means in 1987, exactly when I was born, so it is of great importance to me, to say so, my first Verdi at the Regio Theater in Parma to be, let's say, somehow, the celebration of the opera with me; in addition, it is the most important event in Italy, because they celebrate, as everyone knows, the 50-year career of Master Leo Nucci, whom I had the opportunity, so to speak, to have as father twice, in Staatsoper, Berlin and Menorca, and now we meet in Rigoletto. It's a classical production. I do not know how I lived the dream, when I was 22 years old in Traviata, to actually debut in Traviata, in Rome, directed by Franco Zefirelli. Exactly the same dream, but on a much larger scale as it is now, because it will be with Leo Nucci, I can tell you that it is more than anyone would want, because I think he is the only one who sang more than 50 performances, we speak about Rigoletto.

Tell us how the atmosphere from the rehearsal is, how are the partners, the conductor?
I have a lot of luck because I get along very well with the conductor, with Francesco Ivan Ciampa. It's the first time we work together, but he being in Naples, I in Romania, I can tell you that Naples and Romania are very similar. I can say that I feel at home in Naples. We have the same spirits, we think the same way, we see the music the same and we often get to look at each other and we already know what we want. It's a great thing to do Rigoletto with a conductor who can listen to the singers. I say it is a very big gift, especially since I am coming after the last Rigoletto, made last year in Naples, at desk was Nelo Santi and now is Ivan Ciampa, I can tell you that it is a very high level for a young conductor, so it's already a luxury. As regards the colleagues, we all played in Naples the same Rigoletto, so we're somehow familiar to each other. Leo Nucci brings the biggest plus... it's definitely a unique life experience that I would like to repeat, not in Rigoletto. Leo is 77 years old now so I don't think I will play Rigoletto next to him anymore, but I can tell you that after the success with Bologna, I feel a little like at home in Parma, I mean the world loves me, they appreciate me on the street, if I go to shops all of them know me. Everybody asks me for tickets ... I have already done interviews. It's a great thing to be so respected; sometimes you aren't respected at home. Here they actually breathe Verdi and opera on the street, which gives you an extraordinary feeling, but it's also a responsibility at the same time.

After this series of shows, what's next for Ștefan Pop?
Besides the fact that Rigoletto is a very hard opera and I should stay in one place to repeat, to focus all my energy into it, I have in the same period, I actually work on two plans, because on January, 24 it will be the premiere of "Norma", alongside Mariella Devia in Genoa. So at this time I had one day when I left. When I was free from Parma I went to Genoa to do rehearsals there. So January is very busy, in the sense that I have not only a responsibility, but two, which are huge: to sing alongside Leo Nucci and immediately, four days later, with Mariella Devia; it's no small think I say. But I hope to deal with it. It's "Norma" in Genoa, then I'm going back to Parma with "Roberto Devereux," again alongside Mariella Devia. I'll be debuting in "Simon Bocanegra" in Bologna. Again "Norma" in Venice, "Traviata" in Venice and the list goes on.

Ștefan Pop, thank you and I wish you the best of luck and hope to see you again in Romania.
I will be on February 10th in Cluj. It will be the premiere of "Elixir of Love". I have a free week so I come to Cluj to play "Elixir" for the public from Cluj and for everyone who can come; the only problem is that the tickets have to be taken in advance.

Thank you and good luck.
I thank you and I wish all your listeners good health, a new year full of happiness.
Interview by Jeanine Costache
Translated by Costache Alexandra Iuliana,
MTTLC 1st year University of Bucharest