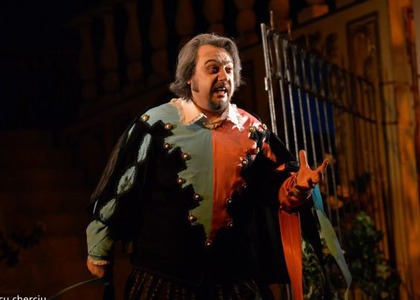 Interview with baritone George Petean
Monday, 15 January 2018 , ora 9.13

After his spectacular performance in Verdi's Rigoletto at the end of 2017 at the Opéra Royal de Wallonie in Liège, Belgium, George Petean, one of the moment's best known Romanian baritones on the international stage, is coming back to Bucharest. He will sing the part of Rigoletto from the homonymous opera composed by Giuseppe Verdi in a concert version on the stage of the Radio Hall. On January 12th 2018, George Petean will share the stage with soprano Luiza Fatyol as Gilda and tenor Cosmin Ifrim as the Duke of Mantua. The National Radio Orchestra and the Radio Choir trained by Cipiran Țuțu will also be participating. The musical direction belongs to David Crescenzi. After one of the rehearsals, George Petean spared a few moments for a short interview:
You are returning to the Radio Hall with Rigoletto, possibly one of the most sung parts in the world. What do you think about this approach to Rigoletto, in concert version?
It's a bit more complicated, we don't have a stage, we can't make use of theatrical movement like we would have on stage, with sets and costumes, but I think the opera is so beautiful in itself that it doesn't matter if we do it in concert or on stage. It's one of the best known opera from the entire world repertoire, so to say. It was also Verdi's personal favorite. Somebody asked him once, if he were to save only one of his operas, which one would he save, and he said "Let it all burn, but spare my Hunchbak!" This says a lot and Rigoletto has some of the most popular arias, so I think the concert version works very well.

You've just finished general rehearsals with the singers, the orchestra and the conductor. What can you tell us about the collaboration?
We've all known each other before the project. I have worked with David on many occasions, I've performed with the orchestra for the first time last year, it was fantastic, they do their job extremely well, and all my other colleagues I've known for a long time, almost all of them did their degree at Cluj. Tenor Cosmin Ifrim is a very good friend of mine who has been singing on the stage of the Vienna Opera House for many years now and continues his international career. He is a tenor with a special voice, he sings beautifully. I know Luiza Fatyol from Cluj… She's been a singer at Düsseldorf for some years now, she has an exquisite soprano voice, perfect for Gilda, and Cristina Maria Damian, who's been my colleague for many years - we were colleagues at the Hamburg Opera, we sung Rigoletto on the very stage of the opera house in Hamburg - she is a fantastic Maddalena. Petre Burcã I think is known in all the country, he's been singing everywhere for many years now, at the Romanian Opera House in Bucharest, at the Romanian Opera House in Cluj. He is one of my oldest and dearest friends and a bass with a splendid voice.

Before we finish, please send an invitation to the audience.
I hope everybody can come. We're really looking forward to seeing you. I don't come to Romania so often, especially not in Bucharest. I somehow managed to come last year and this year, I don't know when I'll be back, so I'd like the hall to be full and for the people to enjoy this wonderful part that I've sung on almost all the great stages of the world, from Vienna to Hamburg, Munich, Zurich, Napoli and I will also be singing in Palermo. Yes, it's a part that already represents me so much. It's maybe one of my most beloved parts and I'd like the Romanian audience to come and see me. That's why I'm here.
Interview by Jeanine Costache
Translated by George Arion,
MTTLC I, Universitatea București