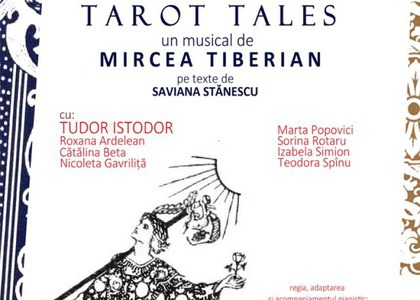 'Tarot Tales', a Mircea Tiberian show on the stage of the Romanian Playwrights Theater
Monday, 15 January 2018 , ora 11.57

After the Paul Celan projects, "Dark", after the music and poetry performed together with Eugen Suciu and Ion Mureșan, you are now offering the audience a new challenge - an interactive musical. How was the idea of these tales based on the tarot theme born?
A few years ago, in a discussion with the poet and playwright Saviana Stanescu, we were looking to find a form of musical performance that also allowed a jazzy approach in the sense of having a modular structure that can be modified depending on the performance of the show. And she came up with this idea of cards, of drawing cards from the audience...

Tarot cards.
Yes. From the suite of cards, the dramaturgy of the show is also transformed. That is, each card represents a moment of the show and it depends somewhat on the hazard and the courage of the one who draws the card. So the show is interactive. She came up with this idea and then made a few texts about the Major Arcana of the tarot, which are archetypal situations of human existence. I wrote a musical moment. I have adapted the text a bit so that it rhymes and sometimes sounds like a song, resulting in 21 moments. We do not play 21 times, for reasons of time constraints, but depending on how the cards are drawn, we usually play about ten moments in a show which lasts about an hour.

In a musical sense, what were the sources of inspiration? How did you make the score of this show? You are offering archaic, contemporary harmonies, what can we expect?
I do not know if you can expect something, because it is an array of the most unexpected stylistic situations that came from two sources; from the fact that the texts were different and fit with a certain genre, from reggae to contemporary music, cabaret, jazz, and this variety is interesting. For me it was somewhat at hand because in the past I practiced a lot of musical genres in my long existence as instrumentalist, arranger and composer, and then I adapted to those texts. Sure, they have unity because it is the same ensemble, a vocal ensemble that has obvious both replies and parts of the text. There is also a master of ceremonies that makes the connection better between the public and the whole.

We understand from the poster that this show is the directorial debut for you, and I ask you how you chose the protagonists, who they are, and how did you lead the rehearsals in that capacity?
I have to say that I have played the show in other variants at Metropolis Theater a few years ago.

So it's not a premiere.
Yes, then we had a different team. It takes actors to sing and dance, and then you have to form a team. This time it's made up of girls only and the presenter is Tudor Istodor.

Are the girls are your disciples?
Every one of them is, whether they are, or were, students at the Conservatory. We also played the show last year in clubs, and now, coming from the theater, I became a director, because it's one thing to play in a club where there is also a very small space and the movement is minimized and it's something else entirely to play on a stage with all the requirements of a stage. Then, for each of these moments, I had to invent a story, a little dramaturgy, to take on scenic motion, somewhat of a minimal setting, and even lighting.

So the musician becomes director in time! We notice that beyond the purely jazz musical gesture you are concerned about adding the sound and this explicit poetic component. Moreover, in an older interview you say that there is a kind of solidarity between the current situation of music and poetry. They must supports each other, you say, out of pure strategy, for a better promotion. Is Tarot Tales part of this idea?
This time a bit less, because poetry is not necessarily a poem in the true sense of the word. Texts have not been thought of as poems. They do have a poetic, but rather descriptive, dimension of a series of images belonging to the Tarot. But what you say is very true of stand-alone poetry. It is much easier for audiences to get along with it it it comes with music. This has also been done by musicians of other genres in folk music, but this time no melodic line is added to a poem, and music is not conceived alongside the poem to produce a song as American folk singers from the 60s did. In fact, an alternation is taking place, or music can become a background because poetry is often destroyed by musical interferences because it has its own rhythm and if it is not allowed to breathe, it may lose sense and atmosphere general. But as a show in which there is music and poetry, I can say that it is a proposal of the most fruitful, because it brings two sectors of audience, puts them in contact, and for music listeners it opens a book of poetry, and for those who read poetry, it make their jazz music known. I even made books this way, I made an edition (not me, the editor) with Eugen Suciu reading accompanied by music.

Another topic... I ask you as a curator of the Artists in residence season at ARCUB. What new concerts did you prepare for the first months of the new year?
Already half of the 2017-2018 season has passed. On February 1st, Artists in residence will open with a concert starring with older collaborators alongside me - John Betsch at the drums and Chris Dahlgren at double bass, and as a guest we will have Liviu Butoi from Timisoara. Generally, Artists in residence opens with a curator's project. It's a combination of a curator with an artist in his own home. An international trio will be singing, but we usually target ourselves to have Romanian artists as project leaders. This is the young pianist Sorin Zlat, who will have two English guests. Luiza Zan will sing with a project of hers, which Bucarest does not know yet, called Afrodizzie. I managed to bring the legendary saxophonist Lee Konitz, who is now 90 years old and making a world tour. Toma Dimitriu, a young pianist who this year will complete his studies at the Groningen college in the Netherlands, and he will come with a quintet. The purpose of the season is to create a permanence, and to give Romanian artists the chance to fulfill some projects with international composition or more demanding projects.

Therefore, our invitation is addressed both to jazz and theater lovers. On Thursday, January 11, 2018, at 19.00 in the "Ion Băieșu" Theater Hall of the Romanian Playwrights Theater on Calea Griviței no.64-66, the performance "Tarot Tales" signed by Mircea Tiberian will take place, with Tudor Istodor, Roxana Ardelean, Cătălina Beța, Nicoleta Gavriliță, Marta Popovici, Sorina Rotaru, Isabela Simion and Teodora Spânu.
Interview by Marina Nedelcu
Translated by Ivan Alexandra-Maria,
2nd year MTTLC, University of Bucharest