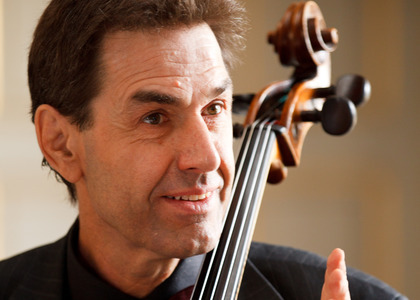 Rudolf Leopold – "I love Enescu's music!"
Thursday, 18 January 2018 , ora 12.51

On January 17th 2018, Radio Romania Music, the Austrian Cultural Forum and the Cotroceni National Museum will organize the extraordinary concert Musical Bridges - bridges between past and present, bridges between cultures, a concert under the sign of the 100th Anniversary of the Great Union and of the National Culture Day. Alongside pianist Raluca Știrbăț, cellist Rudolf Leopold will be performing at the Cotroceni National Museum. He told us that he loves Romanian music.

What makes Silvestri's sonata different when it comes to the score for cello?
It's an interesting work. Stylistically, I would say it resembles Enescu's mature work, but very little. It also resembles - again, a little - the musical language used by Alban Berg in the sonata that Raluca Știrbăț will perform. The first impression, after the almost two minute-long introduction where only the cello is present, is that the work was composed in the dodecaphonic system, but as the musical discourse goes on the idea of tonality also crystalizes. I think Silvestri's concept is very interesting. As a composer, he was able to do all these things in a rather compact piece of music.

The program of the recital at the Cotroceni National Museum includes other works signed by Romanian composers. I know you are quite fond of Enescu's music…
Yes, I love Enescu's music… I played Enescu's two sonatas for cello and piano with Raluca, but also the Nocturna and Saltarello - included in the program for the evening -, scores from his earlier years that were rediscovered in manuscript in the 90's in a library in the United States. We want to record these works. Enescu's evolution from a composition standpoint is interesting… At Satu Mare, we played the Symphonie Concertante, a work from Enescu's Romantic period, which is very dear to me… As I was saying, there is a clear evolution in Enescu's expression as a composer. If in the case of the first sonata for cello and piano things are clear, starting from the second sonata - something that can be found, for instance, in the third sonata for piano and violin - a simple reading is not enough to understand the composer's intentions. A lot of study is required in order to decipher the message of Enescu's scores.
The program for the recital at the Cotroceni National Museum is very interesting. I say that because we start from the connection between Enescu and Brahms, going to Brahms's influence on Berg, continuing with parallels between Berg's and Silvestri's creations and ending with the Romanian Dances by Bela Bartok in an arrangement for cello and piano, a version that I've worked on for some time with Raluca Știrbăț.

The extraordinary concert is financed by the Austrian Cultural Forum and will be recorded by Radio Romania Music. It will be broadcast a week later - Wednesday, January 24th, starting from 17.00, on the day we celebrate the Union of the Romanian Principalities.
Interview by Lucian Haralambie
Translated by George Arion,
MTTLC I, Universitatea București