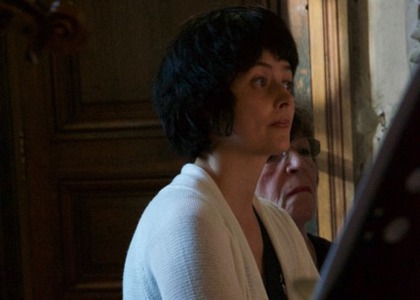 Composer Ana Giurgiu-Bondue, about the records with Antoine's collected works and Jean-Baptiste Forqueray
Friday, 19 January 2018 , ora 12.26

The opportunity of our today's discussion was given by a discographic project in which you have recently contributed, an album dedicated to Antoine and to Jean-Baptiste Forqueray. Maybe for some of us these two names are not so well-known, so I am asking you who were these two musicians and how did the idea of this project appear.
Forqueray or The Anguish of Soul is the name of these collected works.They are in world premiere; therefore, all the work of Antoine and Jean-Baptiste Forqueray- who were French composers in the 18th century, and also great performers of a musical instrument which was very popular in that 18th century- viola da gamba- is recorded. This type of music is less known, although a lot of clavecinists interpret works of Antoine Forqueray, transposed, in fact, to harpsichord by Jean-Baptiste, his son, Antoine being an instrumentalist, violist at viola da gama. Among the four CDs there is an extra one, which contains vintage documents about the Forqueray family, archival texts from the National Library of France, read by Nicolas Lormeau, from the French Comedy.

And besides their music, the disk also includes a part of works dedicated to Forqueray, where we can also find a creation which you sign.
Michel Deverite, clavecinist, is accompanied by Kaori Uemura and Ricardo Rodriguez at viola da gamba, by Rio Terakado at the violin and by Robert Kohnen at harpsichord. There is a special CD among these four CDs with homage pieces, dedicated to Forqueray, made for solo harpsichord and chamber music. There are homage pieces, composed by famous people like Rameau, Couperin and also by less famous people, like Charles- Francois Clement or Jacques Duphly. On this homages CD there are two contemporary homages too, one of which is signed by me. My piece is called Carillon pour Forqueray and it is a solo harpsichord. Carillon is basically a musical instrument which consists of several bells, which are generally in tune on at least two octaves and are acted on by a manual. In general, the carillon can be found in churches, in castles or in a monumental building and for this genre there are many composers, with all the types of voices, who where inspired by the original carillon, made composed of bells. For example, there was William Byrd, Louis Couperin Francois Couperin and Forqueray too; and recently, there was Offenbach, Mussorgski and even Messiaen. In my piece, I wanted to reproduce this almost hypnotic atmosphere of a typical carillon. The piece is made based on a tetrachord on which various variations superpose and the language is somehow neo-baroque, modal-tonal and full of plagal modulations which remind of Forqueray's language. The piece has been and is dedicated to the clavecinist Michele Deverite, who made very precious sugestions for us, during the entire period of composing.
These collected works appears on Friday, January 19, in world premiere, at the record label Harmonia Mundi in France.

I want to ask you, in the end, how will 2018 be, regarding your composition and interpretative projectd?
Further, I proposed to the clavecinist Michel Deverite a new collaboration, for a project dedicated to baroque instruments, a projects which I own, like a creative laboratory dedicated to the harpsichord, to the viola, to the blockflote and to viola da gamba. The future piece for harpsichord, which has not been composed yet, will be integrated to a new disk, which will be dedicated to Francois Couperin; at this moment, publishing is negociated, again at Harmonia Mundi. This project was selected by The Society of Owner Rights in France (SACEM) in order to be patially financed by SACEM and partially by a participatory campaign, crowdfunding, on the Internet. On the other hand, we also received several propositions for projects about music for documentaries, whici are still negociated for 2018-2019. And we also created a duo- violin-piano - in Lille, where I live, with a violonist from the Philarmonic Orchestra in Lille, with which I present different programs, not baroque ones- on the contrary, from Mozart to contemporaries- and with which we have several projects ongoing and set out concerts.

Thank you very much and wish you good luck in all your projects!
Interwiev by Ana Diaconu
Translated by Alexandra Georgiana Sălcianu,
MTTLC, anul II