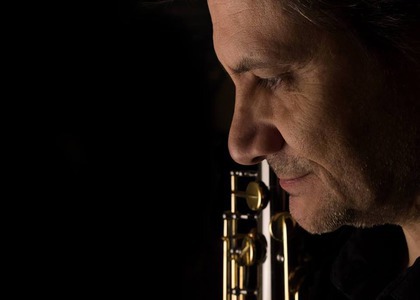 Interview with sax player Cristian Soleanu
Tuesday, 23 January 2018 , ora 15.15

Tuesday, January 23rd, the Radio Big Band begins its artistic season once again, this time with a concert in the 'Mihail Jora' studio. We spoke to Cristian Soleanu, who will be the soloist for the evening:

Cristian Soleanu, tomorrow you will be on the stage of the Radio Hall with the Big Band, in a special concert conducted by maestro Ionel Tudor. What can you tell us about this event?
In a way, it is and isn't special at the same time. I feel like home there, I've been there for 28 years as a musician, but it's special for me because I will make my debut with works and arrangements specially written for the orchestra that I've been performing in since 1990.

What musical surprises can we expect?
These are original compositions. I have written a special suite dedicated to my colleagues, it's called "The Six Studio - Big Band Suite". That's the studio where we rehearse every day… And many others, of course.

What other projects are you working on for the near future?
This year I will continue with a project that I began last year at the Brăila Jazz Festival, in memory of Johnny Răducanu. I presented a project called "I Remember Johnny". I wrote some compositions dedicated to him and I've also arranged some of his works for the formula that I'm working with now - that is, a quartet or quintet, depending on the availability of the musicians.

How do you balance the life of the composer with the life of the performer? Is there any difficulty?
Yes. Not difficulty… The performer… I'm talking about the jazz performer, who, in fact, improvises most of the time, and improvisation is considered real-time composition. In my opinion, it's 80% true - the rest, 20%, is up for debate. Composition gives you ample time to correct your mistakes, while improvisation… you don't have that luxury for what happens in real-time. On the other hand, improvisation requires preparation beforehand. The preparation of the tools required for composition takes place before the act, when composition is still simmering, to use kitchen terms. It keeps simmering and, after a while, you either take part in it yourself as an improvising performer or you leave it to other performers and experience another kind of emotions.
Interview by Radu Mihalache
Translated by George Arion,
TTLC 1, Universitatea București