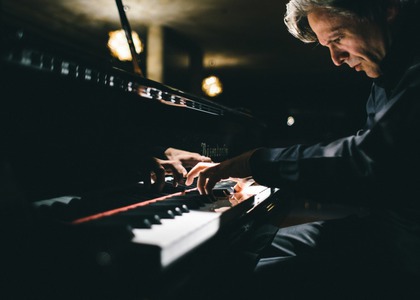 Cristian Niculescu – the soloist of OCR (Radio Camera Orchestra) and the Guest of the Week at Perpetuum Mobile
Friday, 26 January 2018 , ora 12.33

Radio Camera Orchestra performs on Wednesday, 24 January 2018, under the baton of the French conductor Olivier Robe. The program opens with Two Intermezzi op. 12 by George Enescu, then continues with two works by Johann Sebastian Bach - Concerts no. 1 and 3 for the harpsichord and orchestra - and ends with Symphony V in B flat by Franz Schubert. Soloists of the evening - pianists Zsuzsa Balint and Cristian Niculescu. The latter was in the studio of Radio Romania Music on Monday, 22 January, from the position of "Guest of the Week" within the show Perpetuum Mobile.

Hello! I am so glad to have you with me. So, we are talking about the concert that you will be performing on the stage of Radio Hall on Wednesday evening. First, what does "Mihail Jora" studio mean to you?
"Mihail Jora" studio means a lot to me. Right now, I was thinking that in 1987, 31 years ago, I made my debut at Radio with Radio Orchestra under master Conta's baton and at that time I interpreted Mozart. And now, listening to Prelude and Fugue in C major by Bach, I remembered that in the concert studio of the Radio I participated in a musical soiree of Iosif Sava in which I played exactly this Prelude and Fugue…

You will now work with Olivier Robe, with Zsuzsa Balint. A few words about the meeting with them?
With Zsuzsa Balint I have been collaborating for many years. We have a duo; we also have concerts in Germany and other European countries; we have recitals, we have concerts with chamber orchestras, and I am very happy to be with her in Bucharest on the Radio scene for the first time. Last year we had a tour in Romania including concerts in Cluj, Sibiu, Bucharest - at the Athenaeum and Timișoara with the Symphony Orchestra and I am very happy to be now in Bucharest, at the Radio Hall. I did not meet yet Olivier Robe, we never worked together.

We come back to Bach. You chose his music for the concert on Wednesday - the two concerts for two pianos, no. 1 and no. 3. Why these works?
These works I think are seldom played and they are some special works. Concerto no. 1, for instance, was first written for oboe and violin, which gives it a special character and a special writing, and no. 3 is well known by the performances we know even with George Enescu and Yehudi Menuhin, which is the well-known version of two violins and an orchestra, originally written by Bach for two pianos. So, they are two special works that seem to me extraordinarily beautiful and special.

I would like to go to another topic now - your activity in Germany. You live in Berlin, where you have recitals and concerts, but you also have a studio - Niculescu Studio. What is it about, exactly?
Niculescu studio has been developing a lot lately. At first there was only a series of chamber concerts and recitals in my studio, where I work, and I study, and it was framed on the concerts line of hauskonzert type, which have a very high tradition in Germany and Berlin. Meanwhile, this studio has become an institution because there are more than a few internal concerts there, we have international artists, we have both international and German theatres, we have literary evenings, movie evenings, movie with music…so, a series full of events that attract both the German and the Romanian public in Germany, Berlin.

We are in the beginning of 2018. After attending the Radio Hall on Wednesday, what are you getting ready for? What are the projects?
This year we have many chamber and solo projects. It seems to me a special year, especially related to the anniversary of Romania's centenary. In this sense, we will be presenting a concert on 1st February, in London, a concert with music chamber composed during the war, which includes Enescu's works, including the Trio by Enescu, the Trio edited and transcribed by Pascal Bentoiu in the original version, works by Debussy, Franck Bridge and Kodaly. I will present this concert in the company of the great cello player Rodin Moldovan and the young violin player Alexandra Paladi.

Therefore, Romanian musicians. What's next after London?
After London I have some concerts in France with a German violin player and then follow concerts within the Baltic Sea Festival, which I have been inducting and organizing for 8 years - a music chamber festival, but also with concerts in the company of chamber orchestras and literary soirees and even…as I was saying what is happening also in Berlin, mute movies with live music.

Very beautiful projects for the beginning of 2018. We are approaching the end of our dialogue, not before asking you to invite the audience to come to the concert hall on Wednesday or to listen to the concert at Radio Romania Music.
I should be very happy that the public of Bucharest will be as numerous as possible in this historic day, 24 January, and of course, those who listen to us from afar will be with us. For me it will be a great concert and I am very happy.
Interview by Lucian Haralambie
Translated by Elisabeta Motoi,
MTTLC 2nd year University of Bucharest