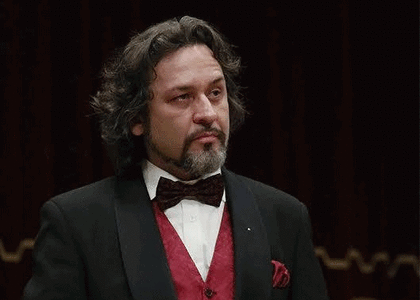 Schoenberg evening - Wagner at Radio Hall
Wednesday, 31 January 2018 , ora 10.02

Friday, 2nd of February, the conductor Julien Salemkour will be back again at the desk of the National Radio Orchestra, to lead a programme Schoenberg-Wagner. The evening will open with the work "Transfigured Night", an opposite of Arnold Schoenberg's post-romantic period. In the second part of the night the main guests will be Marius Vlad Budoiu and Barbara Krieger, the authors of the work "Tristan and Isolda". In the second act of Wagner's work will perform: Aura Twarowska - Brangäne and Daniel Pannemaier - Marke. The event will start at 19 hours and will be broadcasted at Radio Romania Music. We talked about this event with two of the protagonists of the show: Barbara Krieger and Marius Vlad Budoiu.


Interview with soprano Barbara Krieger

Barbara Krieger you will perform Isolda from "Tristan and Isolda" work at the Radio Hall. How did you get the invitation from the event planner?
I received the invitation from Julien Salemkour with whom I have worked before in Berlin. We both love the music of Wagner and when I was asked if I want to perform in Tristan and Isolda I was very excited ...and I said that I will come for sure.

What does Wagner mean for you and for your repertoire?
As you know, I come from Germany where there is a Wagnerian tradition. My first contact with the Wagnerian work took place many years ago when I sang in the opera " The Master-Singers of Nuremberg ". Since that moment I was in love with Wagner's work. "The Ring of the Nibelung" was the next one, and then I performed two roles on the Walkiria stage: Brünnhilde and Sieglinde. Then I fell in love with the score of Isolda and I want to sing it every time I get the chance.

Is the Isolda score difficult?
The orchestra has an important role in the play, and you must be focused at all times, but I don't find it difficult.

Is the Wagner music public friendly, as Verdi's or Puccini's work?
I believe that the audience, mainly the German audience, is a bit taken aback at first saying that: Wagner's work is of great length. Within the first 5 minutes of listening they fall in love with the music.

The second act of Tristan and Isolda will be performed on Friday, 2nd of February. Why did you choose the moment?
I think the conductor made this choice because the music is wonderful, but I would love to hear all the play...

What can you tell us about the collaboration with tonight's conductor and with the partners?
I have worked a lot with Julien Salemkour, and I know Marius Vlad Budoiu for several years, and we performed together in many concerts and operas, and I hope he enjoys working with me as I much as I do... I love singing alongside Marius. It is the first time when I will sing with Aura Twarowska, but we get along very well as she is a wonderful colleague.

What expectations do you have from the audience of Romania?
I sang before in Romania and I very much enjoyed it... I am curious to see how they respond to Wagner's music.


Interview with the tenor Marius Vlad Budoiu

Mr. Marius Vlad Budoiu, the audience from the Radio Hall will have the pleasure to see you perform in the Tristan and Isolda work by Richard Wagner. A long time ago you said that Wagner was your favourite composer.
Yes, he is and as you can see I am given the opportunity to perform in Wagner's work much more often. It seems like my whole life was heading this way - and I believe there is still a way to go as I am constantly trying to adapt that to Wagner's work, to his music, and with the overall feeling of his opera - and I do hope that things will go smooth from here on because my performance in Wagner's work put me in the spotlight and I am getting more and more requests to perform in similar plays. It really gives me a great satisfaction.

What does Tristan mean for Marius Budoiu? What kind of professional fulfilment did you get out of it?
If I were to compare I would say that Tristan is for the German music as Otello is for the Italians. What I mean is that this is the apex of a tenor's performance and it would be very difficult for me to describe the satisfaction I get out of this. It is a role that gives me a sense of vocal and spiritual fulfilment, and I get a feeling that there is always room for progress and for another view on the play, and it is extremely important for an artist to feel like there is still room to grow.

At the Radio Hall it will be a concert version of Wagner's work and only the second act. Do you think that the whole performance of the work would have been too much for the audience or it would have needed more vocal, instrumental resources?
Honestly, I don't think it is necessary. Everywhere in the world it happens this phenomenon of performing works in a concert not just Wagner, but it generally happens -to be honest, less and less finance goes to art and culture. And as such, the artists make a special effort to bring culture closer to the audience; culture and, great culture, the culture that has survived the time and has been imposed in history. And in the cases where finances are more limited, the opera brought in the concert is very successful; it is an attempt that I say it will have a positive echo because Wagner is always a pleasant surprise for the audience. As such his music enjoys great success even played in a concert. When Lohengrin and the Flying Dutchman were played in Bucharest, in Cluj, Tanhauser was being played and it's still played today. The audience had a wonderful surprise and every time they left feeling a positive vibe.

Don't you believe that a play with a big production, costumes and a set would have a bigger impact on the audience than a singed version?
For sure if I were to think of a more public friendly version. It would have had a greater success and impact on the audience.

Is Tristan a difficult or complicated role for Marius Vlad Budoiu?
Yes, without any doubt the role is a difficult one. I sang before in difficult plays, but this is by far the most demanding. It is also a physical challenge not only from the musical and intellectual perspective.

Tonight's conductor has chosen a work of Schoenberg and the second act from Tristan and Isolda by Wagner. What do you think about this association?
I enjoy Schoenberg. I feel like this is an inspired decision. It is meant to fulfil, to create not a structural picture but a poetic one.

Could you talk about the stage partners and the conductor?
I have already worked with the conductor for several years. We performed in opera, in concert operas, concerts with different parts of the works, and operetta. what I am saying is that I sang many times alongside him. He is a very multi-skilled performer, he communicates well with the orchestra and with the soloists. I very much enjoy working with him. I already work with Barbara Krieger for several years now. She is a very pleasant partner on stage and we enjoy collaborating. A gesture is enough to synchronize the things related to breathing, phrasing and tone. She is a performer with a lot of experience and not only does she know what to do on the stage, but she also helps her partner and lets herself be helped, what I mean is that it is a very enjoyable collaboration. I have been working with Aura Twarowska in different circumstances from opera to vocal symphonic for many years now - and I am glad to meet her again on the stage.

What's next for Marius Budoiu after the Radio Hall Concert?
I will take some courses at the Dusserdorf Opera in Germany. I have a premiere play by Otello in Lubeck, Germany…

In the end, I will ask you to make an invitation for the night of the 2nd of February!
We are inviting you to this concert, which is an event we worked hard for and it will bring the Romanian audience closer to a wonderful music.
Interviews made by Jeanine Costache
Translated by Elisabeta Motoi,
MTTLC, 2nd year University of Bucharest