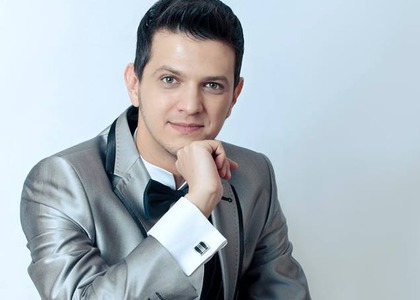 Interview with tenor Bogdan Mihai
Friday, 2 February 2018 , ora 14.02

On February 1, 2018, Gioachino Rossini's opera "The Barber of Sevilla" by the Bucharest National Opera will have tenor Bogdan Mihai in the foreground. It is the debut role of the tenor, again on the Bucharest stage, in December 2017. He then included the scene and the final aria of Count Almaviva "Cessa di piu resistere", thus making an absolute premiere in Romania. This role opened the doors to major opera theaters in the world, including the Stuttgart State Opera, the German Opera House in Berlin, the Chatelet Theater and the Champs Elysees Theater in Paris, the Opera House in Montreal, the Dubai Opera House, the Trieste Verdi Theater. He sang under the leadership of importantconductors such as Nello Santi, David Parry, Ion Marin, Jean Christophe Spinosi, Dmitri Jurowsky, Gullielmo Garcia Calvo, Enrique Mazzola. Bogdan Mihai's name appears on three DVDs with Rosinian works: "Aureliano in Palmira", "Adelaide di Borgognade" and "Moise", but also a compact disc made in 2016 at the Naxos record house also with a work by Rossini "Il Viaggio and Reims" About the return to the Bucharest stage and his performances in Count Almaviva, tenor Bogdan Mihai spoke in the following interview:

You come back to the stage of the Bucharest National Opera with the character in which you debutated in 2007 on the same stage - Count Almaviva in the work of Rossini, Barber of Seville. You have written on the last few days on a socializing page about your dear memories that linked you to this debut.
That's right. I really enjoyed it; a role that actually took me to all the great scenes of the world and I always come home thinking about the idea of singing alongside extraordinary colleagues - the regent Pompeii Hărășteanu, Mihnea Lamatic, Iordache Basalic, Mihaela Stanciu ... and many, many more . It was a great joy! ... and with conductors ... with Vlad Conta, with Răzvan Cernat, with Ciprian Teodorașcu ... I always remember with great great joy. And now I have the opportunity to sing again with Ciprian Teodorașcu, with Iordache Basalic and my first Rosina, who was Oana Andra. It was a wonderful union!

Count Almaviva is the role that has brought you the most satisfaction. It is also the most sung of your career so far - 230 shows.
Precisely.

I could ask you, after so many shows, which director did you like the most?
I always liked what I did at the time, but I am still into Emillio Sagi's direction at Chatelet Theater in Paris, an authentic Spanish director with flamenco elements, with some absolutely superb costumes. Also, a production I made at NCPA (National Center for Performing Arts) in Beijing two years ago - also a classic production. I am, however, the adherent of classical assemblies, which fit very well into what libretto means and what the composer really wanted. The adaptations are slightly modernist... I try, however, to bring back the perfume that the Count of Almaviva must have on the stage, no matter whether it is applied nowadays or, I do not know, a vision a little bit stranger.

And in which theater did you feel the best?
I go back to Chatelet Theater, I remember the Dresden Opera, and recently, when I opened the first opera theatre in Dubai Opera House the same way, a great audience! Everywhere we sang the public's heat is fantastic! And now that I'm returning home, I have some extraordinary emotions because, behold, it has been almost eight years and I have been very, very much missed by the scene, by the public, by those I left here and whom I found so wonderful. We live a dream, a magic!

In Bucharest you will perform in a quite recent, somehow modern direction. How do you feel? You've already done rehearsals.
Yes, I've already done the rehearsals. I understand from what I saw ... the Count's first scene ... I'm dressed in those classic costumes, and then, easy, easy, the action goes to our day. I have tried not to create a vulgar count, even if it relates to our days, but to keep that backbone, dignity ... no matter if I have to sing at a time in a leather jacket and a great tattoo on the hand or, I do not know how, jeans. But I always have to keep its elegance because, in fact, the work was called before Barber of Seville... it was Almaviva, a ska L'inutile precauzione. So basically the main character of this work is Almaviva. In the meantime, it has changed, and then Figaro became the main character since the final scene of the Count has been cut off all the time because of extreme difficulties. And then I told myself to keep my dignity on the stage regardless of whether the production is modern or not.

How are relationships with other scene partners?
Extraordinary. We are like a small family and I always say this, always, anywhere, in any theater I would go and meet a new family. There are no diva men or divas, but there is a team that wants to bring to the audience a qualitative final product. And, after all, what do we do? We put our voices in the service of Master Rossini, to bring the truth into music. Because the public is extremely intelligent and demanding and then it charges us, which is why we want to offer this foam, this champagne called Rossini.

You said on the same socializing page that you also would return to Bucharest in March, this time with Mozart.
With Mozart, yes. It is a role that I very much wanted, very much, as Don Ottavio. I remember my first singing lessons, when I became tenor, with soprano Mirella Freni, singing only Dalla sua pace for six months, Don Ottavio's area. Along the way, the years have passed and when I made the last production in Milan with Ruggero Raimondi, he told me "Bogdan, you have to sing, to play this role. It's for you." And here the dream is fulfilled. I cannot wait!

Especially because you've played Rossini so far.
I played Rossini; I bent very hard towards what is called belcanto, Bellini, Donizetti, Rossini, very, very much. Well, it is a very vast repertoire and, as soprano Nelly Miricioiu said, my good friend, "Bogdan, always keep in belcanto and step by step, you can approach Mozart, you can go to other musical styles, but always you come back home, because your voice is especially dedicated to belcanto. " And then, that's what I'm trying to do.

What follows for Bogdan Mihai after this long-awaited audience show - is it sold out?
Indeed. I saw it and I'm very happy. Another package of 32 shows awaits me in a great tour organized by my agency in China in all major theaters - Beijing, Hong Kong, Shanghai... It will be on a two-month tour, a tour of strength with the production we have made, the one of Giulio Ciabatti, when we opened the Dubai Opera; a classic production, a kind of mise-en-scene, a theater in theater. It will be great! I cannot wait!
Interview by Jeanine Costache
Translated by Costache Alexandra Iuliana,
MTTLC 1st year University of Bucharest