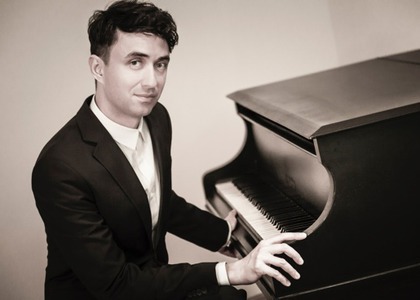 Interview with the piano player Cătălin Șerban
Thursday, 8 February 2018 , ora 15.49

At the beginning of February 2018, the piano player Cătălin Șerban has released his album of debut entitled 'Des cloches sonores', recorded in July 2017. The disk contains the Suite No. 2 Op. 10 in Re major by George Enescu, the Sonata D 894 in Sol major by Franz Schubert and the Sonata No. 5 Op. 53 by Alexander Scriabian. The piano player, who is 38 years old, born in Bucharest and settled in Berlin, offered us some details about his disk:

Where have you made the recordings for the disk 'Des cloches sonores'?
I made them at the Faculty of Music from Lübeck, where I am an academic lecturer of the piano department. There I had the possibility of recording in the great hall, with a Steinway piano.

What can you tell us about the choice of repertoire for this album?
They are representative works from my repertoire, from the creation of the composers Franz Schubert and Alexander Scriabin. They are works which I have played many times during my career and which I have been presenting at Bucharest also, last year, at the Atheneum, during a recital at the Great Hall. Actually, I have an affinity with Schubert's works and I wanted the disk to contain this Sonata in Sol major by Schubert which, in my opinion, matched the context of the CD title. I have desperately wanted to play a Romanian song. The Suite Op. 10 by Enescu is a play I love very much and somehow all things made sense and I have decided to play these three songs, following this formula, especially that the title of Enescu's suite, 'Des cloches sonores' (The Ringing Bells), also matches the other two songs. The beginning of the Sonata by Schubert, for example, has these chords that sound like bells and somehow it is an extension of Enescu's suite. This is how I felt.

Will you have promoting recitals of this album in the following period?
First I will have recitals with another programme, because I have not succeeded in making a promoting recital these days. I will have a concert with an orchestra and a recital with a different programme in Berlin, but I also want to come to Romania, with the CD programme.
Interview conducted by Larisa Clempuș
Translated by Andreea Gabriela Orășanu,
MTTLC, an I