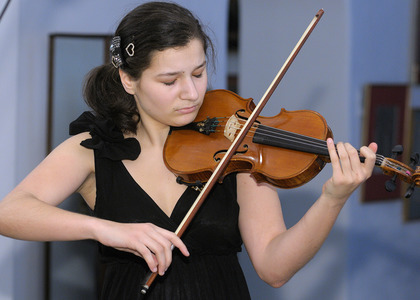 Interview with violinist Alexandra Bobeico
Wednesday, 21 February 2018 , ora 9.58

Violinist Alexandra Bobeico and pianist Clementina Ristea Ciucu are holding a recital on Tuesday, February 20, 2018, in the Small Hall of the Romanian Athenaeum. Beginning with 7 o'clock pm, the musicians will interpret Violin Sonata No. 18 in G major K.301/293a by Wolfgang Amadeus Mozart, Violin Sonata No. 3 in C minor, Op. 45 by Edvard Grieg, Violin Sonata No. 9 by Ludwig van Beethoven and Caprice-valse in A-flat major by Camille Saint-Saëns, work signed by Eugène Ysaÿe.
Violinist Alexandra Bobeico, born in 1996, is the winner of the First Prize of the prestigious Concertino Praga Contest in 2013 and is currently studying at the University Mozarteum Salzburg. Pianist Clementina Ristea Ciucu is university assistant at the Faculty of Interpretation within the National Univeristy of Music Bucharest.
The recital of the two musicians will take place within the Tuesday evening Season organized by George EnescuPhilharmonic.

Alexandra Bobeicohas given us details about the recital:

I thought of choosing for the program at the Romanian Athenaeum, musical pieces of different styles. They are beautiful works, that I hold dear and I'm happy I have the occasion to present them to the public. Out of the entire program, I think Kreutzer Sonata by Beethoven would be the most difficult work, because the technical difficulty is not particularly its only key issue. Beethoven had a pianistic way of thinking, but also a musical difficulty to himself, requiring many outstanding things; for instance, accents where one would usually never find. But every work lays down its own issues. Sonata by Grieg is the closest to my style, but is very changeable and sometimes it's difficult to keep up the pace. As I'm studying at Salzburg, Mozart's hometown, I feel the most comfortable performing his Sonata, all the more so Mozart is being studied carefully, with a keen eye on details. And Ysaÿe... is Ysaÿe: technically very difficult, but at the same time, you have to render the waltz, so it's really difficult.

On this recital at the Athenaeum you will collaborate with Clementina Ristea Ciucu, a pianist that I know you've worked with before. How would you describe this collaboration?
With Clementina I've always felt very good on stage, very free. She's an extraordianry pianist and person and I always take pleasure in collaborating with her. I've even learnt a lot from her.

As you said, you are currently studying at the University Mozarteum Salzburg. Please, tell us a bit about how your musical life unfolds there and the professors you had classes with.
I'm a student in the class of professor Lily Francis. Salzburg is a city of great importance in the field of music, hence we have many opportunities: there are festivals, concerts, contests, masterclasses and I enjoy this experience, I'm learning a lot. I will continue to work hard and perhaps I will start competing in future contests. I'm still thinking about it. I will also have a series of concerts in Salzburg; first one is in March. I'm getting ready for it!
Interview by Larisa Clempuș
Translated by Nițu Ema – Gabriela,
2nd year MTTLC, University of Bucharest