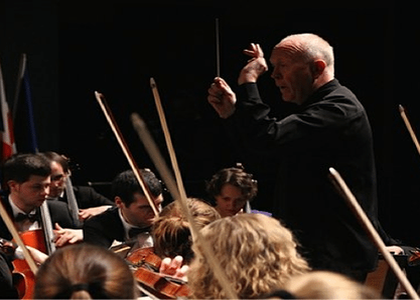 Interview with the conductor Peter Stark
Friday, 23 February 2018 , ora 12.39

Cultural Association "Musical routes" brings together 45 musicians from 11 European countries in "Europe Now Chamber Orchestra" for the first edition of the festival with the same name. This will take place between 21 and 25 February 2018 in Bucharest. The final concert will be conducted by the British conductor Peter Stark, with whom I talked.

Peter Stark, in 25 February you will be in Bucharest and you will conduct Europe Now Chamber Orchestra. How do you feel about this project and how did you become involved?
I am very excited about the project, because it reminds me a lot of the formation of the Chamber Orchestra of Europe, which grew up from the European Community Orchestra, as it was then called, and brought together people who were part of the Youth Orchestra, but who wanted to continue singing alongside Claudio Abbado. Now, Chamber Orchestra of Europe is well-known throughout the world and perhaps the Europe Now Chamber Orchestra will have the same trajectory. It will be a very exciting concert, all the musicians in the orchestra think alike, sing the spirit of the European Union Youth Orchestra.
My involvement in this project comes after a proposal made by violist Theodor Andreescu, who is the creator of this ensemble, he asked me to lead this first concert and I was very excited.

You are very active both as a conductor and as a teacher. What will the musicians and the audience learn from this project?
For musicians, the answer is straightforward: in any project where people of different nationalities come together and work together as an orchestra, it is an experience that enriches your life. So the main benefit will be a continuation of the collaboration for which EUYO has set the foundation.
To the public is a more complex answer: The power of music to unite people and to communicate against all the trials and difficulties that we have in our world is eloquent. One of the important concerns that almost every musician I have known has is how to create and keep the audience. How to make the musical act alive so as this common human experience remain relevant. It is becoming increasingly difficult to maintain due to funding problems, but also because our lives are so closely related to the Internet and technology that live music is in danger. We, as musicians, must convince our audience that direct music can truly enrich your life, in a way that recorded music can not do it. Concerts must be exhilarating, profound and informative. That's what we hope to do on Sunday.
Turning back to your idea related to my activity of music educator, I think it is true on two levels, one, day by day, and one philosophical. Teaching music and the benefits of music, are going hand in hand and far beyond the young musicians I'm preparing. Everyone needs education. So, it was the mission of my life to share this experience with the audience and to convince politicians and people with financial potential to invest in culture.
Interview made by Radu Mihalache
Translated by Elisabeta Motoi,
MTTLC 2nd year University of Bucharest