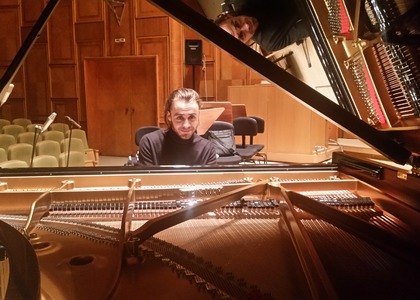 Interview with pianist Daniel Petrică Ciobanu
Tuesday, 27 February 2018 , ora 9.56

Between the 21st-22nd of February, pianist Daniel Petrică Ciobanu, winner of the 2nd prize and the audience award at the Arthur Rubinstein Contest in Tel Aviv - 2017 edition, made recordings for Radio Romania at the invitation of Radio Romania Music.

I think that's the first time you're recording in Romania, right?
Yes, and I'm really glad you gave me such an opportunity.

In fact, what did this invitation mean to you?
First of all, I hope to have marked the beginning of a tradition with Radio Romania Music and I am glad I have the chance to make myself known a little my home land as well, being gone for too long.

When did you leave Romania?
The first time I left when I was 16 years old in Edinburgh, Stewart Melville College, even with the "Constantin Silvestri" Scholarship offered by Mrs. Anda Anastasescu and after that year, absolutely mind opening, I returned to finish the 12th grade in Piatra Neamt, with Mrs. Mihaela Spiridon - my piano teacher. At 19, I left the country, spent six years studying at the Royal Conservatory in Scotland, and after moving to Berlin with Pascal Devoyon.

Now, what are you doing in Berlin?
I'm currently getting my second MA degree, just because my teacher does not give private lessons and I have to go over all the bureaucracy of a faculty but it's worth it. He's an extraordinary teacher and every lesson is a lesson of life more than a music lesson.

The 'Pascal Devoyon - French Music' link takes us to the first work you recorded in our studios: La Valse by Maurice Ravel.
With 'La Valse' by Ravel I felt instantly a strong connection. Just listening, I actually felt the way it opened, in my eardrums, and then, after doing some research, I found a pretty tragic thing in this piece. Initially, Ravel started the play in 1909, then the World War I had intervened, which he insisted to participate in, the play being interrupted and finished after the war. That seemed fascinating to me, how the rupture of what was the effect of such a traumatic event feels.

For the second night of recordings - because we have to say that you do a heroic thing recording almost only at night time - we have a work by George Enescu and the Modest Mussorgsky Pictures.
When I saw the recording hours I said that at least if we were nocturnal, we could also record Carillon nocturne by Enescu, to be on the same page, and, somehow, The Bells from Mussorgsky, a bit of an imitation of Boris Godunov. I thought it was kind of a cocktail that fits and it's worth putting together. Mussorgsky, again, was a piece that surprised me how naturally it sat on my fingertips and how easily I could connect with each painting. I really like to play songs that are more spiritually related than the technical part of the piano, somehow surpassing a piano composition. And in paying the tribute Mussorgsky composed for his friend, Victor Hartman, I felt this thing ... that it's a piece that gives Mussorgsky free reign to get rid of the pain he felt when he lost his friend. Fortunately, I have never felt such a strong trauma, to lose a friend so close, but he is so sincere and so transcendent that I do not have to do anything in principle; It's a self-responding thing. I just have to be physically present and let the music go through my filter. It's so well written and so powerful that I feel like I'm going to the church and listening to a very good mass, from which I learn something every time I play.

How is the experience of these studio recordings for you, which is nothing but a concert in a hall?
Recording is totally different from the energy you feel when you hold a concert with the audience and you're still feeding all the way through a recital that can take 80 minutes. My approach is somewhat naive. I try as little as I can on the stage, to control and impose myself on music, which I do pretty much in the study room. And last night, when I was in front of microphones and a deathly silence I could not grasp unto, it was a bit difficult. Somehow, when you record, you have the advantage that you can repeat certain passages and actually steal the essential oil of your personal ideas and, of course, the composer.

I think the way the recordings are made and the fact that we live in a world of discography industry, that's what makes for a certain type of artist and even a certain type of audience. Because we, in public, listening to a disc have access to something perfect, something that may not be as perfect in concert ...
And perfection sounds good, when everything is perfect, but that something that somehow keeps the audience alert in a live concert, that something holding the audience on the edge of their seats. Somehow ironically, when you record it seems to me less intimate than a concert in which you are, or theoretically you should be as open as possible and let the audience intertwine you from the room and create with them a kind of circular motion in which to send and receive feedback, not necessarily by applause, but also by silence, perhaps through, and by turning off mobile phones and so on. I think very strongly and it becomes more and more palpable, the feeling of concert in which I actually feel how I have an energy feeding into me. While on record you can really expose your ideas more clearly and you have not only one chance to expose yourself musically, but that's a bit too problematic. And rehearsal, a time, two or three times again, and it loses its essence, it becomes more technical.

I think artists of your age today - you are 27, today's generation is facing a series of challenges that previous generations have not had. It seems to me more difficult for an artist today to master the perfect instrument in a very competitive world - we need to be aware of it - to have the chance to find a manager to promote it wherever they need to and to reach the halls where they want to sing along with the artists they are supposed to play, with discs, to be able to promote themselves through them ... possibly also write all the time on facebook and be present in social media ... it's like being a kind of superhero. How did you feel the pressure of being a pianist today?
First of all, I try to make sure that Daniel Ciobanu's quality is not lost on the piano and then a little difficult, but I'm fortunate that I have two agents who oversee me and take away from my logistics obligations and all these contacts which must be immediately absorbed and branched into all kinds of opportunities. And, somehow, it's also an advantage that everything is so easy to access. You made a recording, you put it right on youtube or facebook and the whole world has the chance to hear you in a second, compared to some years ago when there was a rather small circle between the record labels and the ordinary public access to personal recordings. But, indeed, there are pianists who are exceptionally technologically advanced, and there are also battles I have with myself, when I see how many things a pianist can do besides the act of giving himself a recital. But I try to learn and keep up the pace as well as possible.

What's next? I'm just saying you will return to the Radio Hall on May 18th with a very ambitious program.
Just tomorrow morning (February 23, 2018) I will go to Paris for a French music academy where I will play again La Valse by Ravel and the Miroirs Suite. Then I will have some time to relax, in a way; I'll be staying in Berlin. I have to learn a fairly steep repertoire for the debut in Carnegie Hall in October.

Congratulations!
Thank you.

What repertoire?
I will start with Enescu, with Carillon nocturnal, then Mussorgsky's Pictures, three Skriabin preludes, Prokofiev's Sonata No.2 and Stravinski's Firebird in Guido Agosti's arrangement.

Yes, indeed, a very ambitious program!
Yeah, it's a little high in calories. I will haveto burn many calories before, on the stage, and probably after as well. Speaking of more important projects, I would like to mention that I am very excited about the invitation I received at the Enescu Festival next year and ...

Who will you sing with? Or will you have a recital?
I will sing Prokofiev Concerto No. 3 with the Polish Orchestra. And, meanwhile, we have received an invitation from the Konzerthaus in Berlin. In Frankfurt I will sing now in April; it's a fair, perhaps the biggest in the world, where every piano brand is displayed and four concerts in which four pianists are invited to play on the most successful brands.

And you're coming to the Radio Hall on the 18th of March. We're very happy about that! And, again, it's a very ambitious programme.
Yes, the project is pretty daring, but somehow we need to break this very strong tradition with an uverture, a concert, and then a symphony.

So, then, what will it be?
We will start with a blanket and then finish the first part with Rhapsody of Rachmaninoff on a Paganini theme. And I thought, why sing just one concert if two concerts can be played? And I said, I can put Rhapsody in Blue by Gershwin there, Rachmaninoff being a big fan of Jazz and even Gershwin, I thought they fit very well and we can feel some taste of champagne after the Rhapsody of Rachmaninoff.

When we saw you evolving in Tel Aviv, at the Arthur Rubinstein Contest where you got second place and the audience award...
... an audience like that in Tel Aviv... it really brought me joy, I think, a bit more that the jury's award.

So, a big success. When we saw you and watched you, and lookes at pictures, we said: Look, a more nonconformist pianist, but now I realizw that inside you have a very classical structure, in fact. Who is the real Daniel Petrică Ciobanu?
Somehow, I have this instinct to leave this comfort zone of a classical pianist and to try as much as I can, without hurting classical music, to make myself known somehow also through a rather outlandish attire and, in principle, to show the youth especially that, still, this is not a career or a domain in which you always have to wear a bowtie and be in the past. You can also approach the classical style with a contemporary allure as well, and even with a musical approach that's more contemporary, freshereven, from certain points of view. Right now there are so many pianists in the world, that you can afford to break a bit this pattern of classical musicians, in the true sense of the word.

So, in a way, I see you somewhat optimistic about what it means to receive classical music for a large audience in the future!
Yes, and I see many points of view pointing towards a kind of classical music with a more jazzy approach. I mean, I also see a lot of reiterations currently being built on classical pieces, and even big pianists and those of the past are starting to have a more relaxed approach, and a bit more modern, realizing that still... yes, we have a tradition to uphold. We have a composer like Beetgoven who we cannot butcher with all sorts of dubious contemporary approaches, and still, we must keep him alive somehow and as authentic as possible. But we also have composers like Prokofiev, Skriabin.

Very interesting! How do you think the audience feels about this?
Even they need at some point a span of, I don't know, 10-20 minutes of break. I mean, we create there an intellectual core and somehow we travel into the past, 300-400 years ago, but still, we live in 2018 and we have certain contemporary needs... to also listen to a bit of jazz, and rock music, and electronic music.

You also play jazz?
Yes. I have this state, in a way my dirty little secret. I sometimes feel the need to send my ears on vacation and to unite with a different genre of music, even today's electronic music.
Interview made by Cristina Comandasu
Translated by Ivan Alexandra-Maria,
2nd year MTTLC, University of Bucharest