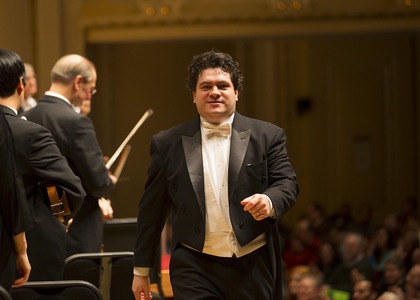 Interview with conductor Cristian Măcelaru
Friday, 2 March 2018 , ora 12.03

Conductor Cristian Măcelaru is in Bucharest this week, where he conducts two important events. I found out details from the artist himself:

Cristian Măcelaru, on Friday you are back with the Radio National Orchestra, musicians you have worked with. How is this comeback for you?
Always when I return to the National Orchestra, I enjoy the friendship that I have formed with my colleagues in the orchestra during these years, and this program is exactly this thing through the works we sing. I refer to Elgar, whose work we interpret, Enigma Variations, a work that Elgar wrote to celebrate his relationship with various friends he had. And looking at another piece to go with Elgar, we decided to look at another English composer, Britten, in a song that plays less, anywhere in the world it plays less, not only in Romania , Sinfonia da Requiem, a symphony he wrote in the memory of his parents. In a way, it was not a friendship relationship between his parents and he surely, but in a way, this piece also reffers to a collaboration or a relationship, which is much deeper and more intimate, to say so . It's a play by Britten that I really like and I hope to have the same effect on the people who will come to the concert or who will listen to the radio.

Between these two works we also have the Wieniawski concert, where you collaborate with Gabriel Croitoru.
Exactly. He's a close friend of my orchestra and mine. I met Gabi Croitoru for the first time, when we also collaborated on the National Orchestra stage a few years ago and I was very excited to be able to work together again. Sure, the Wieniawski concert is a concert known by all the violinists or those who sang the violin, especially because is a standard concert, to say so. But it's a concert in which Wieniawski was like a Chopin of the violin, a very natural musicality, very organic, to say so, but full of virtuosity and musical lace. It is very beautiful. In the same way that Bellini wrote for the voice, Chopin wrote for the piano, Wieniawski wrote for the violin.

It's a repertoire in which Gabriel Croitoru feels good. How is he now?
Yes. A description, so to speak, he is a violinist of violinists. In the sense that he knows all the tricks of violins in which he can show his expertise.

Master Măcelaru, besides this concert that you will support alongside the Radio National Orchestra, on Sunday you prepare another surprise in which you bring together the Romanian Youth Orchestra, the Prelude Choir, the Radio Children's Choir, plus leading soloists, after a long time, the Matthäuspassion Oratory by Johann Sebastian Bach at the Athenaeum. How did this project work out?
This project came as an idea to say so, after the collaboration we had a year and a half ago, in which we made the oratorio Messiah by Handel, also with the Youth Orchestra. I think it's so important for those who learn to become musicians to have an experience of singing in different styles. Unfortunately, Bach's music, mostly, is for singing individually. There are only a few Bach orchestral pieces, but it's so important to learn Bach's music and a collective perspective. That's why we definitely wanted to do Matthäuspassion, which is one of the greatest masterpieces of music, and I brought this work to give this experience to those who play in the orchestra, who sing in the chorus and to hear the soloists to come. It is a work and a project that is very close to my heart, so to speak, and I am glad to be able to offer what I learned when I studied different musical styles, to give back all this to a generation that I hope to also continue the same way.

You talk and point out very well that in a way, Bach's music is meant to gather communities around it...
And with the choir and the orchestra we had separate rehearsals and this Matthäuspassion by Bach was extraordinarily designed, it was designed for two separate orchestras and for two separate choirs. And it is a surprise for those who will come to the concert at Athenaeum, because I also want to represent this visually, which naturally will form a cross on the stage. Because of the four points in which the orchestras and choirs will be placed. Yes, it is actually repeating this piece very much involving individual study or study with separate orchestras with separate choirs with parts of the respective orchestras that sing only certain things and then the final product is when everyone gathers together and say, tells the same story, to say so, which is related, important to evangelist Matthew, who is represented by tenor Nicholas Pan.

Where do the soloists find their place in this universe?
That will be the surprise for those who come to the concert, but I also planned something special for that.

Thank you very much. Finally, when do we have the chance to see you on Romanian stages or from Bucharest?
As always, I return to Bucharest quite often. I come about three or four times a year and I will return to the National Orchestra in June.
Interview by Radu Mihalache
Translated by Costache Alexandra Iuliana,
MTTLC, 1st year