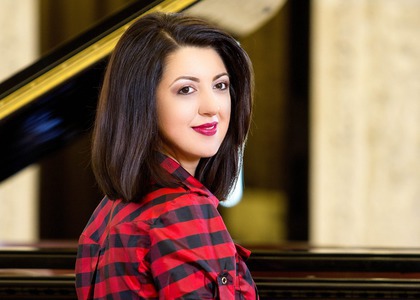 Interview with pianist Alexandra Dariescu
Monday, 12 March 2018 , ora 13.26

Two famous Romanian artists could be heard Wednesday, March 7, 2018 at the Vienna State Opera - Angela Gheorghiu and pianist Alexandra Dariescu, who offered a recital featuring lieds, opera arias and pieces for piano solo. Alexandra Dariescu gave us more details about the event:

How did the initiative of this collaboration start out?
I got the invitation from Angela Gheorghiu and I can't tell you how happy I was to have this opportunity of performing together. The recital will be broadcast live on the Vienna Opera House website. Entry is free of charge, from what I understand, and I'm extremely happy that we will have an extraordinary program, we will perform many lieds together, I will also have some solo pieces, such as Pas de Deux and Tchaikovsky's Flower Waltz, arrangements by Pletnev and Percy Grainger, and in the second part we will perform works by Enescu, Fields and Constantin Silvestri, so we will mix between the Romanian and international repertoires.

The first rehearsals have already taken place. How did they go?
The rehearsals yesterday were extraordinary. I have a bit of a jet lag, I came here directly from Canada, where I made my debut with Tchaikovsky's no. 1, the concerto for piano and orchestra, but I got to the rehearsals, and Angela is in an extraordinary shape. There's so much inspiration and enthusiasm coming out through her every pore!

Finally, I would like to ask you to tell us more about the Young European Lieders conference, where you will be going right after the recital, on March 8.
The conference will be in Warsaw and will take three days. It's a very, very busy schedule. On March 8, in the evening, there will be a very important dinner dedicated to International Women's Day, where I and other guests will talk about the women who inspired us and shaped our lives. After the dinner, I will be playing in a recital. There are a lot of people at the conference, there will be many debates on politics, environment and gender equality. It will be something extraordinary which I'm sure will have positive effects and, of course, there will be guests from all fields of activity: art, journalism, politics… I'm sure it will be very, very interesting!
Interview by Ana Diaconu
Translated by George Arion,
MTTLC 1, Universitatea București