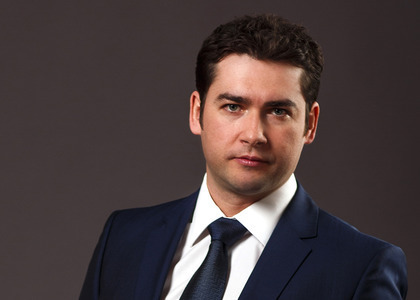 Teodor Ilincăi performing on the stage of La Monnaie Theatre in Bruxelles
Tuesday, 13 March 2018 , ora 12.19

On 6th of March 2018, after his first performance with the play "Cavalleria rusticana" by Pietro Mascagni, Teodor Ilincăi is again on the stage of the La Monnaie Theatre in Bruxelles. On March 9th he will be performing the role of Turiddu in a production by Damiano Michieletto. Except for Evelino Pido conducting, one could also enjoy the performance of Eva-Maria Westbroek - the interpreter of Santuzzei Jose Maria, Lo Monaco - in the role of Lola, Dimitri Platanias - Alfio and Elena Zilio - Mother Lucia. Regarding the performance, we talked to the tenor Teodor Ilincăi:

On the 6th of March, La Monnaie Theatre in Bruxelles presented a new production of the plays "Cavalleria rusticana" by Mascagni and "Paiațe" by Leoncavallo. We can see from the images on the Opera Hall site that this seems to be a modern production.
We might say it is a semi-modern production, it keeps the classical lines quite a lot and doesn't change the story at all, as we can see in many modern productions. I totally agreed with the theatre director Damiano Michieletto's vision, the modernism he actually brings in the performance, the disclosure of the character's psychology.

Tell us how the public reacted, especially that your first performance was last night.
They had a great reaction and I am so glad, because normally the first audience of a series is a bit more pretentious and reserved. But it didn't happen last night, we got a "standing ovation" at the end of both operas.

What can you tell us about the collaboration with your stage partners?
I knew them by their names, I knew Eva Maria Westbroek from a Covent Graden production of "Andrea Chenier" where she performed with Jonas Kaufmann, conducted by maestro Papano, and I knew she was an amazing soprano, and Dimitri Platanias a Greek baritone, who needs no introduction, performs the Verdian repertoire in a way which reminds us of the past Italian baritones.

Is Turiddu a debute?
It is not a debute. This is the third series of performances I have with this role. The first time was two years ago, and then I had the chance to perform this role again at Hamburg, last year.

Tell us about the collaboration with the conductor?
A magnificent conductor, an amazing musician, this is the first time we have collaborated. I am very glad because each rehearsal made me redescover new things and I actually strongly believe this is the goal of each performer, to discover new things and to try to highlight his vocal qualities next to a conductor and with the help of a score. And I was extremly happy that maestro Evelino Pido collaborated so well with the producer Damiano Michieletto, they counseled each other regarding the motion on the scene lest an unproper position of the performer might cause problems to his voice.
Reported by Jeanine Costache
Translated by Ghencea Alexandra,
An 1, Master MTTLC, Universitatea Bucuresti