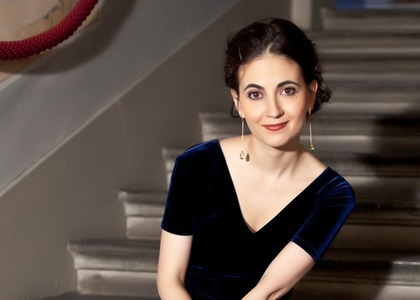 Interview with Soprano Teodora Gheorghiu
Monday, 19 March 2018 , ora 13.16

"A talented soprano, full of grace and virtuosity. Teodora Gheorghiu shines with her beauty and voice" - is often said after her performances on stages such as La Monnaie Theatre in Bruxelles, the National Opera in Nancy, Grand Théâtre de Genève, Théâtre des Champs-Élysées in Paris, the Vienna State Opera and the stage of one of the most important European festivals - the one in Glyndebourne. Between 16th and 29th March 2018, Teodora Gheorghiu will return to Romania in her very first national tour, about which she told us in the following interview:

The public must be impatient to hear you again, or perhaps, for the first time. How come you thought of such a tour?
I thought it would be a good idea, especially giving that I haven't been performing here since college. There are cities in which I will be performing for the first time, such as Pitești and Caracal, and I thought it would be a good idea for the people of these cities to have the opportunity to listen to quality music.

The tour will include six cities from Romania. Could you please name them?
Pitești, Caracal, Brașov, Alba Iulia and Arad.

And, last but not least, Bucharest, at the Romanian Athenaeum.
And finally at the Romanian Athenaeum.

What program do you have in mind?
The program will mainly be bel canto. It was one of my ideas to follow the steps of a singer from the beginning of the 19th century, who created most of the roles wrote by Bellini, Henriette Méric-Lalande and I wanted to try a part of the arias created by this singer. Therefore, it will mostly be bel canto. It will be with pianistic accompaniment. During the tour I will be accompanied by Clementina Ciucu - Ristea and in Bucharest I will be accompanied by Franck Villard from France.

We have to announce the audience that the concert from March 29th at the Romanian Athenaeum will be recorded and broadcasted at Radio Romania Music in one of the concert editions at Radio Romania Music during the Bright Week. Before the tour, I would like to ask you to address an invitation to the audience.
I am looking forward to meet the Romanian public again and that the program will be appreciated.

What's next for Teodora Gheorghiu after this tour?
Next there will be a recording with bel canto arias, a portrait of this singer, Henriette Méric-Lalande. This is my next project. There will be a tour to promote this disc on the stages of several cities in Europe.
Interview by Jeanine Costache
Translated by Maria Zorilã,
University of Bucharest MTTLC 1st year