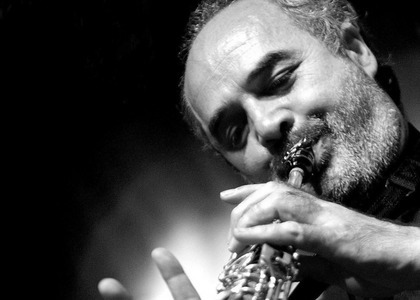 Interview with saxophonist Nicolas Simion
Tuesday, 20 March 2018 , ora 11.42

Tuesday, March 13, starting at 19:00, the well-known saxophonist will perform in a concert at the Radio Hall alongside the Radio Big Band

A new Nicolas Simion concert together with the Radio Big Band. What will you prepare for the loyal audience this time?
It's a series of concerts that are performed once a month, started by Florian Lungu - Jazz in Romanian - with Romanian soloists and Romanian conductors. And this time I'll have some pieces I haven't played with a big band before. The last time, in 2012, I performed some of the arrangements written by Bill Dobbins - an American conductor, arranger and composer -, a program which I since then recorded with the Köln Radio Big Band in 2004, under the name Balkan Jazz. The disc will be released in the summer in Romania as well at 7Dreams Records. On March 13 we will play "Miorița", "Balkanela", "Fighting song" and "Anton Pann", which is in fact an arrangement of the song "Bordeiaș, bordei, bordei".

So there is the same passion for our folklore and a love for Romania, so beautifully set to music in the sophisticated arrangements of contemporary jazz.
It's true they are sophisticated, but Bill Dobbins is a great pianist, conductor and teacher. He understood the nuance and atmosphere of Romanian music perfectly. I sent him, I think, about 30 or 40 discs with folk music. He listened to doinas, vocal music and instrumental music from all regions of the country. I sent him the songs I wanted him to arrange in the versions I had recorded in small formulas, with a violin and bandoneon, and he was very inspired. It's a classical style, this crossover between folklore and contemporary jazz, it's not avant-garde but it's very colorful, with clarinets, flutes and instruments that are less often used in a big band.

Could you tell us something about the soloists that you are collaborating with for the concert?
The concert is divided into two parts - a part with the Big Band, where I am a soloist, and the other part in a quartet formula. We will play alongside Sorin Romanescu, Tibi Menyhart from Cluj, a very talented bassist, and Iulian Nicolau, an extraordinary drummer; I think he is currently the most creative one. We will play some pieces written several weeks or months ago as a quartet. We have a special guest, Delia Nartea - an actress who will recite some poems and haikus by Nicolae Coman, my professor of harmony and composition; we want to offer him a small tribute. It will be a very interesting concert, with a lot of variation involved in it. We invite you to come, one and all!

You have been collaborating with the Radio Big Bang for years now. How would you describe this journey?
The first couple of times we collaborated I was a student, in 1982-1983, when Silie Dinicu was still the conductor, then we played with Dan Mândrilă for some years, we would go to all their concerts. The first true collaboration as a soloist was in 2007 with Peter Herbolzheimer, a great composer and arranger. We have kept collaborating since then, I have many colleagues, many friends in the big-band and I'm happy to see them every time, to play together.

What should the public in Romania know about Nicolas Simion's career in Germany, what don't we know, what happened in recent times, what will happen in the future?
I left the country in 1988, stayed in Vienna for 10 years, then moved to Köln in 1998. There's a very active musical scene there, lots of classical music and jazz music. I feel very good there, I have a lot of friends, a band, we still play in clubs and at festivals. In Romania I started this jazz label, 7Dreams Records, and released over 25 jazz-only discs. There were some CDs with Richard Oschanitzky's music, with recordings from the Radio and Electrecord archives. There are some CD's by Jancy Körössy, I released one of Johnny Răducanu's discs, with his songs played in trio with Sorin Romanescu and Kruno Levaèiæ at the drums. It was also his last CD. There was also a disc dedicated to maestro Nicolae Coman, only with piano music. We also released an album with works for piano edited by Editura Muzicală, it's fresh, it came out today [March 9]. So I constantly try to create a connection between the jazz scenes in Romania and Köln by inviting people to play in Germany or by inviting Germans and Americans to perform in Romania alongside Romanian musicians. And things are working out. Everything also depends on the support we get from the Romanian Cultural Institute, from the Ministry of Culture, from the Composers' Union, the Radio, the National Television. In Romania, we have also played with philharmonics in Ploiești, Bucharest, Iași and Brașov. We released some "Classic meets jazz" discs as well, "Classic needs jazz", and the next one will be "Jazz needs Classic", just so we don't offend anyone and are politically correct.
I also won a prize in December, in Poland, and Katowice, there was a composition contest; in 2015 I won a prize for improvisation - actually for my activity in the last several years - from the Köln Broadcasting Company…

And at the Bucharest Jazz Festival as well…
Exactly, that was two years ago. It was the competition that has unfortunately been transformed into a competition for female singers. We have many talented female singers, they're also easy on the eye, not all of them can sing, but they have an enchanting charm and stage presence.

How would you present the music you will be performing during the concert on Tuesday night and how would you describe your style in general to a young man who doesn't listen to jazz? We all want a young audience, both us as a radio station, and I think every artist in the world of jazz wants the newer generations to warmly embrace this music.
I would tell them to discover it, to come closer to it. It's about an ethno jazz, a Romanian jazz, it's what I'm fighting for, without forcing the issue. There are Romanian themes and Romanian rhythms. We maintain an acoustic line in a traditional jazz with new elements and a certain spirit we try to transmit. That's the secret, actually: the spirit, the atmosphere the music - they have to tell something to people.

So, why do we love jazz?
Because it's spontaneous, because it happens only in that moment when you are in the concert hall. It's a magical moment, the soloist feels inspired, then comes a beautiful piece, everything clicks. You won't ever come across this moment again. When you listen to music recorded in a studio, you feel like it's missing what Sergiu Celibidache said, it becomes a distorted representation of reality. Music happens in that precise moment when the audience, the hall, the atmosphere contributes to it as well. The moment can't be programed, can't be controlled, can't be mastered.

The concert is broadcast live by Radio Romania Music on Tuesday, March 13, starting at 19:00.
Interview by Marina Nedelcu
Translated by George Arion,
MTTLC 1, Universitatea București