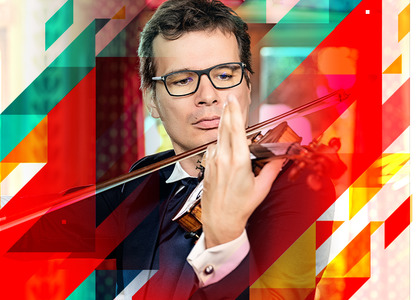 The Anniversary of Radio România Muzical – discussion during the 'Perpetuum Mobile' radio show
Wednesday, 28 March 2018 , ora 10.09

Violinist Alexandru Tomescu, Andi Enache from Cărturești bookstores, Răzvan Purcărea from Humanitas bookstores and Cristina Comandașu, chief editor fo Radio România Muzical, were all guests of Lucian Haralambie in the "Perpetuum Mobile" radio show on the 21st of March.

Our first guest this week is violinist Alexandru Tomescu. He will be playing at Park Lake Shopping Center in Bucharest, in an event for the "Listen to 5 minutes of classical music" campaign. The recital will take place on Saturday, the 24th of March, at 6 PM, the day when Radio România Muzical is celebrating its 21st anniversary. Here is what Alexandru Tomescu had to say about the event:

"What better way to celebrate this anniversary, especially when it is about classical music, than with music itself? Music is the one that lifts our spirits and cheers us up, therefore I am quite pleased that I was given the occasion to celebrate along with my friends from Radio România Muzical the anniversary of its 21 years of activity and that we had the possibility of marking this milestone of the "Listen to 5 minutes of classical music" campaign in a less ordinary fashion. This is by bringing classical music into a shopping mall - more accurate, at the Park Lake in Bucharest. I think that it is very useful this extraction of the classical music from its ordinary confort and bringing it where the people are interested to hear it, taste it and enjoy it."

Cristina Comandașu, first of all, I'd like to ask you to talk about everything that our station has prepared for the celebration of reaching 21 years of activity.
We have plenty of events that we are currently organizing. Of course, first of all we have the recital of Alexandru Tomescu in an unconventional location. I came up with the idea the moment he accepted the title of ambassador of the "Listen to 5 minutes of classical music" campaign - classical music played in unconventional locations. However, it would have been even better had we introduced some live music brought on by Radio România Muzical in such spaces. I do believe that this event has already stirred a lot of interest. Naturally, Alexandru Tomescu is a highly esteemed personality and I am most grateful for his presence and support on this occasion for Radio România Muzical. Then, we came up with another event, and that is why we have the representatives from the Cărturești and Humanitas bookstores here with us. Weare planing a Classical Music Day in Humanitas and Cărturești bookstores. On the 24th of March, in all the bookstores in the country, there is a 15% off the classical music records. This is our way of thanking our listeners, but also giving them the possibility of buying the records that they have listened to, maybe even for the first time, on Radio România Muzical. They can buy them at a better price to have them in their homes. And, of course, we have the recordings of last year's Radio România Muzical 20th anniversary concerts: Alexandru Tomescu, Luiza Borac, Alexandra Dariescu and Cristian Măcelaru. We also have messages from our listeners, posted on our web page up until today. We have already selected some of the most beautiful ones. The representatives from Humanitas insisted to give a prize to two of these messages and we're not talking only about a record, but two very interesting CD box sets. Therefore we have many reasons to celebrate the life we lead here, at Radio România Muzical, if I can say so. Lucian, you should already know this very well. For the very few of us, who form the Radio România Muzical team, a small group of 20 people that make the editorial team, that keeps Radio România Muzical alive, along with our colleagues from the technical department. For us, Radio România Muzical is simply our life. Even you, Lucian, you probably spend most of your time here, right?

That's right.
But the hours have a totally different meaning to us. I do believe that we are happy people because what we do is a work of passion. We all started studying an instrument since we were 5 or 6 years old, we've all graduated from the Conservatory and we didn't necessarily choose to play an instrument or sing, but we decided to do something that is equally a important, and that is talking about classical music, presenting it,making it more accessible to the people of today. We put a lot of thought into it. I know I believe, and I know my colleagues also believe that it's important to prepare the future generations. That why so many projects have come alive, that's why the "Listen to 5 minutes of classical music" campaign exists within Romanian schools, which is very important to us. It is vital that people come to performances, it is important that they listen to classical music because it is not just a whim, and the people who work here know this better than anyone. And it's not just for snobs either, nor does it belong only to a past life. It is a concrete reality that tells us we can listen to classical music fo hours and hours because it relaxes us and it heightens our spirits. Classical music is the climax of high quality traditions. I know that traditions might not be regarded nowadays with the same level of importance, but this tradition is a part of us and we should preserve it and pass it down to our children so that they, in turn, can do the same. I do hope that, every day, we manage to do this as well as we can. I thank all our listeners that tune in every day.

Mister Răzvan Purcărea, before anything else, please tell us a few things about the Classical Music Day at Humanitas bookstores. How was this concept received?
I have already gotten the feeling that it was well-received. We already have people waiting anxiously for Saturday to take advantage, in the best sense of the word, of this day. Not only clients, but also my colleagues and I are very glad that such events are organized because we only wish to promote classical music even more. It has been highly promoted in Humanitas bookstores for years. We have also been present at the Enescu Festival in the last four editions with well-supplied stands and it brings me great joy to know that such an event might increase the number of people that visit a bookstore with the possibility of buying classical music records.
Especially when in Humanitas bookstores, as well as in Cărturești bookstores, the classical music supply is quite good for Romania. Of course, we cannot compare with Austria or with other countries with esteemed traditions, but anyway…

Speaking of supply, I will ask Andi Enache to tell us a few words about what Cărturești bookstores have to offer for the Classical Music Day.
We probably offer the same thing as Humanitas bookstores. Cărturești bookstores have been on the market for so long with offers as good as any others that exist. I do believe that our offer is good because we have a lot of Romanian classical music that we are able to promote. And I'm thinking, just like my colleague just said, that we might have a better supply than the one in Austria in terms of classical music and Romanian performers, that are also highly regarded internationally. So, if you want to purchase a CD or a DVD, you can visit us anytime, and, of course, on the 24th of March we will have a sale of 15% off. It's nice and it's interesting, especially because it coincides with the anniversary of Radio România Muzical. Happy anniversary, Radio România Muzical for the 24th of March - Classical Music Day!

Cristina Comandașu: Thank you, mister Adi Enache! Who are these Romanian artists that can be found on your shelves?

Adi Enache: They are well-known! One of them is Alexandru Tomescu, who we will also be seeing in concert at Park Lake on the 24th of March, at 6 PM. His listeners will have the opportunity of getting an autograph after the concert in our Cărturești bookstore inside Park Lake Shopping Center. We also have Alexandra Dariescu, whom you probably know from the many concerts she performed in Romania. There is Luiza Borac, Tiberiu Soare, Horia Andreescu, Răzvan Stoica. If you recall, in 2014, the company I worked for and still working part time has won the Annual Classical Music Record award for Alina Azaro's debut album, which says a lot.

Cristina Comandașu: It is true. Now, I have a question for both our guests. What classical music records are most sought out by the Romanian audience? Let's start with Humanitas.

Răzvan Purcărea:I wouldn't say that some records are more popular than others. The demand is rather diverse. We have clients that prefer pre-classical music, others that start their classical music journey with big names such as Beethoven. An we also have the connoisseurs, that come in and ask you for a particular record, that was released who knows where. They say they want "Aida", but not interpreted by x, but by y and so on. In other words, there is a wide range of demands. From what I have noticed, it matters a lot during the weekly Philharmonic concerts at the Athenaeum, for example, where we have a stand set up, and people listen to a certain piece that presents an interest and they always come up to us and ask us if we have a record with the song that is playing. Therefore, the demand is diverse and it covers the entire supply of classical music, from the pre-classical artists to contemporary music.

Cristina Comandașu: What's the situation in Cărturești bookstores?

Andi Enache: First of all, it all depends on the client's background, on his level of culture, whether he is a novice or an expert in classical music. As my colleague from Humanitas stated, it's clear that it depends on the things you are lacking or the areas of your life that you want to strengthen by purchasing a classical music record. I'm noticing gladly that in the recent period of time, people have started buying records with contemporary composers, because a part of the audience realized that these people are still alive and they can establish contact with them to talk about the music they create.

Cristina Comandașu:Do you have any examples? Could you give us a few names of composers that are in this same situation?

Adi Enache:Yes. Dan Dediu, Adrian Enescu, who passed away, unfortunately, but we all know he also composed classical music, jazz music, quartet music, choir music. These are people you could have easily met on the street or at different events and they would discuss about the current situation of contemporary music.

Mister Purcărea, you were telling us earlier about the different types of audiences, namely the audience in search for certain music genres. What is their general behavior whenever they enter a Humanitas bookstoreand search for classical music records?
As I mentioned, the connoisseurs come and search for something in particular or they know exactly what they're searching for and they ask us if they can find it there or not. However, and I wanted to emphasize this aspect, there are a lot of people both inside the bookstore, and at weekly concerts, that require information and guidance, not necessarily like a first grade student. They are the ones who are curious enough to ask questions and to want to find out more. These are the type of people that are willing to receive a certain piece of information, if the recommendations are given with a certain degree of decency, interest and competence. And, leaving the false modesty aside, I am glad to admit that I have received a huge amount positive feedback. After a while, they come back and tell me that what I have recommended was indeed great. So a part of the audience is in fact willing to go further and be helped, directed, guided, not necessarily by a professional, because that's not what we are, but by people with a certain level of competence in the area.

Cristina, let us go back to the messages that our listeners have sent us, messages registered through the special form created for our anniversary here, at Radio România Muzical.
Indeed, we have received a lot of messages. We have received over 70 messages in the past few days. What surprised me was that some of the messages were from areas of the country that doesn't even have Radio România Muzical station, and some of them were from abroad, from America or from Moscow. And this was quite interesting for us as well. I have chosen some messages, with the help of my colleagues, that seemed most interesting to us, and I would like to read you a few of them to get a grip of what is the general opinion of our listeners towards us. The fact that our audience regards us in such a manner gives us strength and hope and the power to go on day by day.

For example, here is a message from Sandra Voinea, from Bucharest: "My teenage daughter is permanently listening to Radio România Muzical in her room. She does her homework listening to your radio station. We listen to Radio România Muzical in the car. We love Radio România Muzical. Happy Anniversary!"

George Stoiescu, also from Bucharest: "I have been glued to Radio România Muzical for 20 years now. I can't do without you. For me, music is food for the soul and an impulse for the spirit in this complicated world, even aggressive for normal people. Sometimes, your music is the only reason I wake up in the morning. I wish you many, many years more in this noble mission that you have been fulfilling with so much dedication!"

We have received another message and I consider it very special because of the chosen words and its theme, conveyed by Gabriel Mircea Spirescu: "In the not so everyday life, sitting in the hospital with health issues, listening to Radio România Muzical, I have noticed the beneficial influence of symphonic or chamber music and the relaxing state that helps settle in moments of affliction and grief." The man suggests we extend the "Listen to 5 minutes of classical music" project to hospitals as well.

Also, here is a message that my colleague from Humanitas and I have enjoyed very much. It is from Cornel B., 40 years old. "I wish my country was as harmonious and functional as Radio România Muzical."

And last, but not least, we have a message from a 30-year-old listener, Matei Constantinescu: "Day by day, morning by morning, the first thing I do after I turn off my alarm clock is to turn on the radio that is always set on Radio România Muzical. The highly informative broadcasts and the diverse selection of classical music and soundtracks gives me the necessary dosage of good music to start even the roughest of days. Ever since I started to regularly listen to the shows your station has to offer, I can say that it has widened the horizon of my musical knowledge and it has refined my appreciation for classical music. I wish you many years of activity!"

Translated by Ruxandra Vorotneac,
MTTLC 2nd Year University of Bucharest