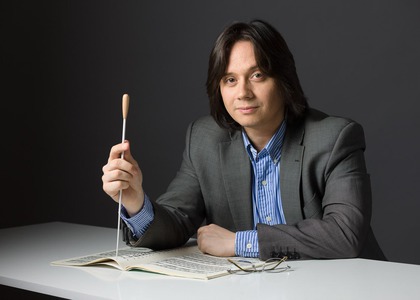 Conductor Gabriel Bebeșelea is our guest of the week on Perpetuum Mobile, on the 28th of March
Thursday, 12 April 2018 , ora 10.20

An interview about the performance of the National Radio Orchestra on the 30th of March and about the "Soul in colors" event, interpreted by Musica Ricercata Orchestra and conducted by Gabriel Bebeșelea, that will take place on the 31st of March.

My invitation was sent out in light of two future events. The first one is the concert taking place on Friday, the 30th of March, performed by the National Radio Orchestra. You will be conducting this performance starting 7 PM at Radio Hall. What can you tell us about the chosen repertoire?
Because we find ourselves in a special period before an important holiday, Easter to be more precise, Rossini's Stabat Materwill be the centrepiece of the concert on Friday, March 30th, the significance of this great work being in tune with this special holiday. However, we insisted upon linking it with a lesser performed, yet extremely beautiful and well-written work, referring to Schubert's 4th Symphony or the Tragic Symphony, that the composer wrote at a very young age. But, due to its character and its vibrant energy, it goes extremely well along Stabat Mater in Rossini's interpretation.

You will be joined by a number of soloists, namely soprano Rodica Vică, mezzosoprano Antonia Cosmina Stancu, tenor Adrian Dumitru and bass Iustinian Zetea. Is this the first time you are collaborating with them?
Apart from mezzosoprano Antonia Cosmina Stancu, I have often collaborated with the other soloists. I am glad to have such young and talented artists, who are full of energy and passion.

How are you getting along with the orchestra and the choir?
As I always do. It gives me great pleasure to return to the Radio Orchestra. I must confess, however, that it has been a while since I worked with the Academic Radio Choir. But we have met once again, and the collaboration was pleasant, they were immediately receptive to my ideas regarding Rossini's musical concept. We had a splendid time. It is the second time this season when I work with the National Radio Orchestra, so I return to the stage of Radio Hall quite often.

And you also conduct both the Radio Chamber Orchestra and the National Radio Orchestra. You have performed on our stage in the past seasons and you have become a household name. I now suggest a musical break. Before we went on air, you mentioned that you would like to listen to this recording. I suggest Astor Piazzolla's Oblivion. You conducted the Radio Chamber Orchestra, with accordionist Richard Galliano as your soloist. Do you recall what type of chemistry you had during that concert?
I have performed several concerts in Bucharest with Richard Galliano. He is the type of musician that challenges you to be great. You have no choice, no other chance. I fondly remember our concert together, when we interpreted Piazzola's Oblivion, but I never got the chance to listen to the recording, so I will definitely enjoy every second of it.

As a reminder, on Friday, the 30th of March, at 7PM at Radio Hall, Gabriel Bebeșelea will be conducting the National Radio Orchestra and the Academic Radio Choir in a concert dedicated to the approaching Easter Holidays.
This was the first topic of our discussion. The second event will take place on Saturday, the 31st of March. If you could please tell us a few words about it.
It is a project that is very dear to me because it is a mixture of several dreams that are coming true and a lot of my passions that are coming together in this type of musical approach. It is a project called Musica Ricercata, through which we wish to promote both old and new music. We have two musical extremities that are rarely performed in Romania. The first two concerts took place at the Romanian Athenaeum at the beginning of March and I am glad to say that the audience was thrilled. The concerts were fantastically well-received. The concert in Budapest also created quite a stir and provided positive feedback. And we are glad to have our third performance this month here, in Bucharest.

On Saturday, the 31st of March, at 7 PM, at the Auditorium Hall of the Romanian National Museum of Art will take place the fifth edition of the "Soul in colours" event.
This is the second passion I was mentioning earlier. These events support philanthropic activities. This concert is organized with the help of the Help Autism Foundation and the Association for Art and Culture and I am glad we can do something good for the less fortunate people, especially children with autism. Not unlike the music we interpret, it is an impairment that is being neglected in our country and, through this event, we wish to draw attention towards the necessity of better-financed treatments, that are designed especially for these children, in order to give them a brighter future.

Going back to our previous topic, this is a musical event. We know that soprano Rodica Vică has been supporting this event from its first edition. Who else will perform? Mezzosoprano Andreea Iftimescu, baritone Vlad Crosman and, of course, the Musica Ricercata Orchestra. I would like to hear more about how you approach old music, because the Musica Ricercata Orchestra is based on these endeavours.
I would start with the name Musica Ricercata, which, paradoxically, does not refer to old music, but to researched music, and it is a type of work signed by Gyorgy Ligeti. It is a piano suite composed by Ligeti, typical for the 20th Century, intended as an homage to Frescobaldi. Through this project, I try to pay tribute to Ligeti, who was born in Târnăveni, in Romania, but also to the works that are rarely interpreted.
This passion for old music started many years ago with the study of manuscripts. We always need more answers from the sheet music that we study. Gradually, I realized that studying the manuscript offers many answers to my questions. Step by step, I found old music, I studied vigorously, I have transcribed plenty of manuscripts and I have even worked on the Romanian premiere of a French opera, Rameau's Les Indes galantes, directed by the great Andrei Șerban. It was an extremely mad thing at that time, but we put all our strength and energy that we were willing to spare into it and it turned out to be quite a masterpiece.

Let's go back to the Musica Ricercata Orchestra. What can you tell us about this ensemble? Do they have instruments of that era? I read in an interview that you are using a 415 hertz tuning, can you explain to our listeners what that implies?
The contemporary tuning goes up to 442-443 hertz and is constantly rising. There is a custom in baroque tuning. In fact, there were many tuning forks in the baroque period, but the convention was that the music would only be interpreted at 415 hertz. It's extraordinarily important because opera music was the highlight of the baroque era. That's when opera music was born. And it is very difficult to perform if your diapason has a different tuning, not because the pitch is higher, but because the harmonics simply lose their chemistry, they do not properly link together in the way piece was originally intended to. Working with a tuning fork resembling the ones in that era, that have a much milder tuning, you will notice that the sounds disperse with a softness intended for this type of music, also helping the instruments to reach a state of uniformity. We have several wind instruments that are built for this specific tuning. On Saturday, the 31st of March, we do not have any wind instruments because we have a different type of repertoire, but for our first concert, where we interpreted the works of Lully, Charpentier and Rameau, we had a flute made of traverso wood, a wooden oboe, a baroque bassoon, all tuned to 415 hertz.

What can you tell us about Saturday's repertoire?
We are covering a wider range on Saturday. We start off with Monteverdi, Vivaldi, Handel, Broski and several works of Lully and Rameau, so quite a wide range. However, we manage to comprise the essence of European Baroque.

What can you tell us about the structure of your orchestra? Do you have both Romanian and foreign instrumentalists?
Yes, we have both Romanian and foreign artists, all highly excited young people. I have collaborated with most of them in many projects dealing with baroque music and this is one of the reasons we united our forces under one roof and started working on this very month, actually.

Will you be having a permanent schedule?
We are in preparation of a permanent schedule. We are already preparing our next projects that include a manuscript that was found in Sibiu. And, in fact, starting from this manuscript, we set out to prove that people were interpreting the music of that period in Transylvania at that time and we also add other composers that were being interpreted in Europe in that era.

So, on Saturday, in the Auditorium Hall of the Romanian National Museum of Art, you have the opportunity of listening the Musica Ricercata Orchestra conducted by Gabriel Bebeșelea, having prepared an interesting repertoire. We do hope the public also finds it appealing.
Here's a question you cannot get out of. What future projects are you preparing?
After our concert in Bucharest, we have another concert with the Philharmonic of Skopje and Valentina Lisitsa. I will be returning to the "Transylvania" Philharmonic as their main conductor, bringing along several interesting projects. I will conduct the Konzerthaus Orchester Berlin, followed by a tour with Janacek Philharmonic, and afterwards I will go back to the Belfast Ulster Orchestra, the Zagreb Philharmonic, the National Orchestra of Russia, the Russian State Orchestra... There will be a lot of concerts.
Interview by Gabriel Marica
Translated by Ruxandra Vorotneac,
MTTLC 2nd Year University of Bucharest;
Proof: Ioan-Valeriu Enache, MTTLC 2