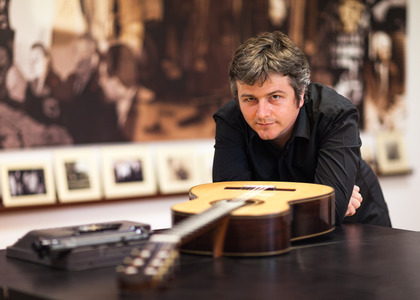 Interview with guitarist Costin Soare about the tour entitled 'From Paganini to Piazzolla'
Monday, 16 April 2018 , ora 13.23

Tomorrow, the 12th of April 2018, in Budapest, is the beginning of the "From Paganini to Piazzolla" tour, with a performance sponsored by the Romanian Cultural Institute. The protagonist for this event is guitarist Costin Soare, who has offered us more details in the following interview:

After last year's tour, "From Bach to Beatles", in which we tried to show the different aspects of a guitar, from jazz music, from the works of Bach to the songs composed by the Beatles, this year's repertoire will focus more on the romantic and neoromantic music, starting with a beautiful sonata by Paganini, who was also a skilled guitarist, although not many know this fact, and he used to play and compose pieces for guitar in between tours. The repertoire continues with more famous works, with which the audience should be familiar, such as Asturias or Recuerdos de la Alhambra, works that are well known and always enthusiastically anticipated by the audience. I will also explore the world of Brazilian music, referring to Heitor Villa-Lobos, who is maybe the most important Brazilian composer of the 20th Century, interpreting two beautiful works, a prelude and an Étude from his collection of 12 studies. The repertoire leads us to Piazzolla, the one who reinvented the Tango in the 20th Century. He invented this tango nuevo, a form of tango that combines the classic tango with jazz music. He also incorporated elements specific to pop-rock culture. The recital ends with two works from The Four Seasons of Buenos Aires, namely Buenos Aires Winter and Buenos Aires Spring.

In broad terms, what can you tell us about the itinerary?
We have two concerts in Hungary, one in Budapest and one in Szeged, having been invited by the Romanian Cultural Institute, after which I will be performing in Romania, in Sfântu Gheorghe and Focșani. On the 21st of April, I will make a stop at the Cervantes Institute in Bucharest, only to be followed by a long and busy week with 5 performances to attend. I start from Bacău and finish on Saturday, the 28th of April, in the Music Hall of the Bran Castle.

What are your main thought while setting off on this tour? What would you like to convey to the audience?
As always, I start from the idea of presenting this versatile instrument to the audience, this "miniature orchestra", as Berlioz named it, and, in fact, tell a story through every work that I will be interpreting, allowing people to escape the environment and the times in which we live and unconditionally enjoy the music I perform.

The "From Paganini to Piazzolla" tour is a project organized by Kitharalogos Cultural Association and co-financed by the Union for the Interpretative Creation of Musicians in Romania.
Interview by Ana Diaconu
Translated by Ruxandra Vorotneac,
MTTLC 2nd Year University of Bucharest;
Proofreading/Editing: Mihaela Ghitescu MTTLC An II