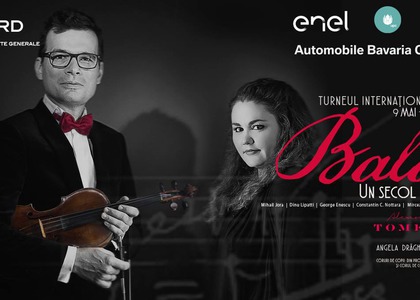 Alexandru Tomescu and Angela Drăghicescu – Guest of the Week on Perpetuum Mobile
Thursday, 17 May 2018 , ora 8.30

Tuesday, May 8, 2018. The two protagonists of the International Stradivarius Tour 'Balada, un secol de muzică' (The Ballad, a century of music) were in the Radio România Muzical radio studio. They talked with Lucian Haralambie about the series dedicated to the Great Union Centenary.

Today's guests are violinist Alexandru Tomescu and pianist Angela Drăghicescu. Welcome!

Alexandru Tomescu: Hello, glad to be here!

Angela Drăghicescu: Good evening!

Let's talk about the first recital in the Stradivarius International Tour. The 11th edition is also linked to the Centenary of the Great Union. What will be the title of the tour and what's the schedule for 2018?
Alexandru Tomescu: It will be a Romanian program, of course. We thought of marking this beautiful and meaningful anniversary, and what piece would be better suited as the title-work of the tour than Ciprian Porumbescu's Ballad - a piece that always moves the audience to tears, whether they are Romanian or not. Moreover, during this tour all of us will see an older dream of mine come true - that of combining the sound of the violin with that of a chorus. To be more precise, I'm talking about a collaboration with the Cantus Mundi network of choirs, mentored by the Madrigal Choir. We will play alongside a local choir in each city we visit. So there will be young people and very small children with us on stage, all of us performing this Ballad by Ciprian Porumbescu. Next to me is pianist Angela Drăghicescu - she has just arrived a few hours ago from the United States. She has an extremely demanding professional and musical life. As I was saying, we will be performing together a program that is 100% Romanian. Of course, we couldn't leave out George Enescu, but we will play pieces that are less known - The Union Hora, Aubade and The Legend. Plus, we have chosen other composers that few people know about, at least outside the field of music: Mihail Jora, Tiberiu Olah, Dumitru Capcianu, Dinu Lipatti with his Sonatina for violin and piano, Mircea Chiriac, Constantin Nottara - an entire constellation of composers who, more often than not, have remained in the shadow of the titan that was and is George Enescu.

Angela Drăghicescu, how did this dialogue start? When did the collaboration for this year's Stradivarius Tour begin?
Angela Drăghicescu: Our collaboration started a year ago, when we met to play Lipatti's Sonata together, which was, in fact, our first performance together. And that was the beginning of a beautiful collaboration. It's a true privilege to be able to work with such a special musician. I hope that together we can bring something new to these works… And from this concert-recital in London we thought of continuing this "tradition" of playing together, even of exploring the Romanian repertoire - the profoundly Romanian repertoire - of some of the greatest Romanian composers besides Enescu.

(…)

The Union Hora by George Enescu is one of the works you will play tomorrow in Constanța, during the first recital in the Stradivarius International Tour (11th edition). Where will the recital in Constanța take place and what's next?
Alexandru Tomescu: the concert in Constanța will be at the "Oleg Danovski" National Opera and Ballet Theatre. With us on stage will be the Galateea Choir conducted by Andreea Imre Rusu. We can't wait for this first meeting and we're very excited. Later on, this week: Thursday - Brăila; Friday - Brașov. Next week we will be going to Oradea, Sighișoara, Bistrița, Suceava. Then Iași, Focșani - Madrid - at the Lipatti Museum. Then comes Pentecost... then in Târgu Jiu - an open-air concert, in front of the Endless Column -, Timișoara, Sibiu and on June 5 we are in Bucharest, right here, at the Radio Hall, where we will perform alongside the famous Radio Children's Choir. The tour ends in Ploiești, Arcuș and Buzău.

I'd like to talk a bit more about this collaboration with the Radio Children's Choir and conductor Voicu Popescu. It's important to note that the arrangement for the Ballad by Ciprian Porumbescu is made by Grigore Cudalbu. What was the dialogue with him like?
Alexandru Tomescu: Very spontaneous and open. We've just had some very interesting discussions with Anna Ungureanu from the "Marin Constantin" Madrigal National Choir. We were already aware of their mentoring project and its scale is astounding - 400 choirs that are constantly encouraged by every member of the Madrigal Choir. It's an absolutely remarkable feat, I think, and an example for all other musicians. It made me want to continue working even more besides the masterclasses that I do every year in order to inspire and collaborate directly with the people who are interested. I hope that, in time, the Stradivarius Tour can become a true launching ramp for young musicians, for the future generations of Romanian musicians.

You said earlier that Madrid is one of the stops on the tour. It's an international tour. What other countries will you be performing in during the 11th edition of the Stradivarius Tour?
Alexandru Tomescu: There will be concerts in Madrid, Brussels…
Angela Drăghicescu: Stockholm.
Alexandru Tomescu: ... Rome, Paris, the US...
Angela Drăghicescu: And Canada.
Alexandru Tomescu: They will stretch for several months, however, precisely because it's difficult to squeeze them together during the same weeks. Plus, many of them will be directly tied to the National Day.

The tour will also have a disc - the Stradivarius Tour (11th edition) disc - featuring the music you will perform. When did you record it?
Angela Drăghicescu: Last year, in September. It was a very short period of time. I say this because we are very proud of the final product. It's extraordinarily beautiful and polished. I think it was the second half of September, when both of us had other arrangements as well.
Alexandru Tomescu: We worked very hard, alongside the famous Jakob Handel - who has already produced some of my discs. We've had the privilege of recording at the Romanian Athenaeum and we'd like to thank the Philharmonic again for supporting us in this endeavour. As a surprise, as a bonus track, if you will, we decided to keep on the disc what we will play for the audience in every concert hall, which is Ciprian Porumbescu's Ballad, alongside the Radio Children's Choir conducted by Voicu Popescu.

Where can we find the disc?
Alexandru Tomescu: The disc will be readily available at our usual partners, the Byzantine Library - they also have a website, www.librariabizantina.ro, you can also find them on Facebook, the discs can be purchased online as well. They will also be available at the concert venues visited by the tour, where both Angela and I will stay with the audience to give autographs.

It's time for the invitation! Alexandru Tomescu, Angela Drăghicescu, please - invite our listeners to take part in the recitals during the Stradivarius Tour!
Alexandru Tomescu: If I could, I would offer each and every one of you an invitation in blank. As far as I know, most of the tickets have mostly been sold out, but Radio România has always supported us a lot. Many of the concerts will be broadcast by local stations, especially the one in Bucharest. This way, the audience of the concerts will greatly increase. And, beyond that, what matters most is the emotion, and this year there will be all sorts of emotions up in the air, touching our hearts through the Romanian composers we love more than anyone else.
Angela Drăghicescu: This way, especially from my personal experience of living away from Romania, this international tour will represent a great joy for the Romanian diaspora. Like Alexandru said, we would like to invite, in white, the entire Romanian diaspora, because for them this will mean a lot more, since they are far from home. And I hope to see everyone at the concerts!

Violinist Alexandru Tomescu, pianist Angela Drăghicescu - thank you for being on Perpettuum mobile on Radio Romania Music. Best of luck! So, starting tomorrow - the 11th edition of the Stradivarius Tour!
Interview by Lucian Haralambie
Translated by George Arion,
MTTLC 1, Universitatea București