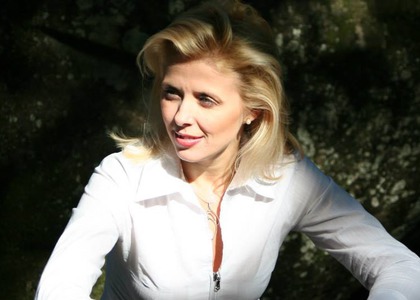 Interview with Violist and Violinist Clara Cernat
Thursday, 17 May 2018 , ora 8.50

Clara Cernat and Thierry Huillet held a concert in Rome on 9th May, during a special event. The violinist herself told us more about this performance, as well as her other projects she has in progress:

Clara Cernat, today you are performing a concert at the prestigious Accademia Nazionale di Santa Cecilia in Rome after being invited by the Romanian Cultural Institute there. How was this project born?
It is a very beautiful, broader project called "Europe in Music" and this recital is part of a series of events organized by the Romanian Cultural Institute in Rome and it is dedicated to European music, of course, to Romanian music in the first place and to French music as well, since it is being done in partnership with Villa Medicis - the French Cultural Institute. There will be works by George Enescu, Ion Scarlătescu's Bagatella, Ciprian Porumbescu's Ballad harmonized by my husband, the composer and pianist Thiery Huillet will play all the pieces in the programme alongside me ... and other treasures in the repertoire, such as, Camille Saint-Saens 's Danse Macabre and a magnificent transcription by Thiery Huillet for violin and piano of the celebrated suite the Sorcerer's Apprentice by Paul Dukas. Thiery Huillet composed a piece - the Little Prince - from which we will interpret some extracts.

What other projects do you have? I have learned that in July you will be one of the teachers who will offer courses during the Festival International de "Musica Pirineos" in Spain.
Each year I attend this masterclass, which is also an important festival, including the summer classes. I will teach both viola and violin classes. Yesterday we played a concert for viola and orchestra in world-premiere at the L'Auditori Hall in Barcelona. Next week, on 14th and 15th May, I will perform Mendelssohn's Concerto in D minor for violin and string orchestra, as a soloist together with the Toulouse Chamber Orchestra, and Ciprian Porumbescu's Ballad harmonized by Thiery Huillet. ... there will be many, many projects...in June there will be several solo violin recitals during a very important festival in Southern France; a festival centred around Bach's music, where I will perform more pieces for solo violin; a very beautiful project, together with the famous French philosopher Luc Ferry, on 9th and 10th June. Returning to the Little Prince, Thiery Huillet had a commission from the National Orchestra of the Capitol in Toulouse (l'Orchestre National du Capitole de Toulouse), one of the best French symphony orchestras, to orchestrate this piece for the piano, violin, and symphony orchestra - so, it will be performed during the next season. Many, many projects.
Interview by Radu Mihalache
Translated by Elena Daniela Radu, MTTLC, the University of Bucharest
Proof.:Ioan Enache