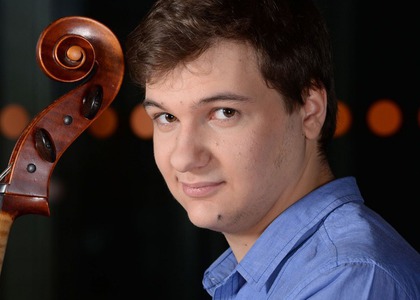 Interview with the cellist Andrei Ioniță
Friday, 18 May 2018 , ora 11.17

The cellist Andrei Ioniță will hold an extraordinary chamber recital in Cluj-Napoca together with the Japanese pianist Naoko Sonoda. Andrei Ioniță will perform works by Felix Mendelssohn, Gabriel Fauré and Serghei Prokofiev on the cello made in 1671 by Giovanni Battista Rogeri from Brescia, which he received from the Deutsche Stiftung Musikleben. The recital takes place on Monday, 14th of May 2018, at 7pm, in the Auditorium Maximum Hall.

Andrei Ioniță has already an impressive career: he won the 1st Prize at the well-known Ceaikovski Contest in Moscow in 2015, as well as prizes at ARD, Emanuel Feuermann and Aram Khachaturian. In 2016 he was nominated "BBC New Generation Artist" for 2016-2018. He performed alongside the Munich Philharmonic, Deutsches Symphonie-Orchester Berlin, Mariinsky Orchestra, Saint Petersburg Philarmonic Orchestra, Czech Philharmonic, Vienna Radio Symphony Orchestra and Tokyo Philharmonic Orchestra and collaborated with great conductors such as Valery Gergiev, Mihail Pletniov and Nicholas Collon.

We talked with cellist Andrei Ioniță about his recital in Cluj-Napoca:

You will perform a recital for the first time in Cluj-Napoca together with the Japanese pianist Naoko Sonoda. Who had the idea of this recital and who organizes it?
I have been in touch for a few years already with the clarinet player Răzvan Poptean, who organizes great concerts every year. He invites international artists and we finally succeeded to put the recital together. We have found a day that suits everyone, and I am very happy to come to Cluj for the first time in 10 years. Last time I was at the National Music Olympiad. I was in the 8th grade.

As far as I know, the pianist Naoko Sonoda is a stage partner you have been working with for some years. What can you tell us about this musician?
Naoko works at the Conservatory where I study, at the Berlin University of Arts. She collaborates with cello classes. We went together to all the international competitions. She was always present there. She was the winner of the special prize for the best partner. She is extraordinarily well-prepared, is a very serious musician, a sensational pianist and I am very glad that she will finally appear in front of the Romanian audience.

You will perform works by Mendelssohn, Faure and Prokofiev. Which are the works that you have chosen and how did you structure this program?
The repertoire is an unusual one for me. Perhaps people are accustomed to the repertoire that I presented at the Ceaikovski Contest or at other competitions: works by Shostakovich, Stravinsky or the Sonata Arpeggione by Schubert. This time I wanted to present another facet of my performance. Prokofiev's Sonata is the one with which we will finish the recital. It is a tremendously solid, yet humorous music. Mendelssohn Sonata is approachable, especially at the piano score, and in the middle, I have chosen these wonderful pieces by Faure - Romance that is less performed and a piece of virtuosity, Papillon.

In the next period you will have a full agenda. Where will you perform after the recital in Cluj?
Immediately after the recital in Cluj, on Thursday, I will repeat this concert in Berlin. Very busy weeks will follow, I will have concerts in Spain, Italy, France. I will be back in the country in June. On 7th and 8th of June I will perform Concerto No.1 by Shostakovich with the Bucharest Philharmonic, alongside maestro Christian Badea. More than that, many other festivals are waiting for me this Summer; for example, the Verbier Festival, where I will have a solo recital and some chamber music.
Interview by Larisa Clempuș
Translated by Georgiana Nuțu, MTTLC 1st Year, University of Bucharest;
Proof: Ioan-Enache Valeriu, MTTLC 2