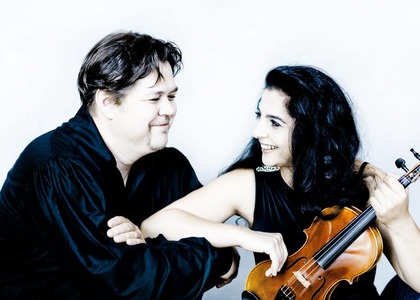 Interview with violinist Iuliana Münch
Friday, 18 May 2018 , ora 11.25

The album The piano legend of the violin, recorded by Romanian violinist Iuliana Münch, will be officially released in Germany on May 11, 2018. The disc, released by Naxos, was recorded together with pianist and composer Andrei Perfenov, who signs all the works featured on the album. This is the second album recorded by the two musicians after the one released last year - Nacht im Schloss, which also features works for violin and piano by Andrei Parfenov.
Iuliana Münch was born in Romania and studied at the "George Enescu" Music High School and at the National University of Music in Bucharest. At the age of 22, she left Romania to study at the Academy of Music and Dance in Koln. After being part of the symphonic orchestras in Koblenz and Mönchengladbach, but also of the Westphalian Symphony Orchestra, in 2009 Iuliana Münch started a collaboration with Andrei Parfenov, getting actively involved in the creation of his works.
The album The piano legend of the violin will be broadcast by Radio Romania Music on June 4 and 5, starting from 11.30, on the CD Review section during the show Arpeggio.
Iuliana Münch talked to us about her new album in this interview:

Mrs. Iuliana Münch, you are releasing a new album with violinist and composer Andrei Parfenov. Where did you record the disc?
The new album, soon to be released by Naxos Deutschland, was recorded here, in Germany, in the hall of our philharmonic, the Westphalian Philharmonic, and features works characteristic to us. What makes us stand out as a duo is the repertoire we approach. The works we record are written by Andrei Parfenov for the concert programs we create. We were invited to perform them at international chamber music festivals. All the works we play or record are new and created by us, for our programs.

How would you describe the style of these works?
The style is specific of Andrei Parfenov. First of all, he is a special pianist, a concert pianist, but also a composer. He comes from the Russian school of music, from the Moscow Conservatory, and brings Russian influences to the table. Of course, these are very well mingled with German influences, after 20 years of music and musical activity here in Germany. On this album, the idea of the composer Andrei Parfenov was to introduce the violin, with its specific timbre and its specific possibilities of musically expressing itself into the works for piano solo which he, as a concert pianist, naturally had had in his mind for a lot of years. We could say that these works are reborn through the vision of Andrei Parfenov, especially for this album.

What can you tell us about working with the Naxos record label?
Because we bring new programs to Germany, we attracted a lot of attention from the media. Our first CD, which you know and have broadcast here on Radio Romania Music, was presented live in the studio of the German Broadcast here, in West Germany, in Koln, at the WDR, and this was very special for us, because we played everything live. Of course, there were a lot of people listening - the agents and the festival organizers, as well as these classic labels such as Naxos. We stood out as a duo because our repertoire is totally new and different. The idea was hatched then to make an album for Naxos with works that had never been played before in that form. Everything is at its world premiere because the works are ours, written for us in a form that doesn't exist elsewhere. It is solely the creation of pianist Andrei Parfenov.

Will there be an official launch event for the album?


Yes. The official launch of the album will be on June 10 in a live concert. This time we opted not for a studio launch, but for a chamber concert. It will take place in Schloss Julich here, in West Germany, on June 10, and it will be moderated by Stefan Keim, a journalist who is well-known here, in West Germany, and who does cultural radio and TV shows. We hope to see you in Bucharest and to make a presentation of the CD for the Radio Chamber Season. We would be extremely happy!
Interview by Larisa Clempuș
Translated by George Arion, MTTLC 1, Universitatea București;
Proof: Ioan-Enache Valeriu, MTTLC 2