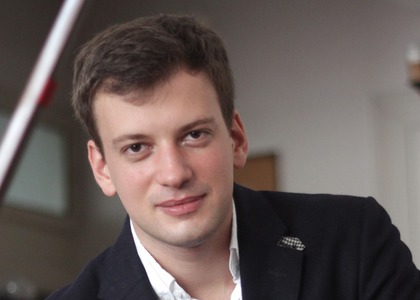 Interview with the pianist Mihai Ritivoiu
Tuesday, 22 May 2018 , ora 12.06

On Wednesday, 16th of May 2018, Mihai Ritivoiu, one of the most talented pianists of the young generation, settled in London, performs at the Cadogan Hall as a soloist of the English Chamber Orchestra. The musician gave us details, in an interview, about this event:

Mihai Ritivoiu, you are in front of a new important moment in your career, you will perform alongside one of the most valuable ensembles of the world, the English Chamber Orchestra. How did this opportunity come up for you?
It is an occasion I enjoy very much and it happened thanks to the City Music Foundation. I was chosen as a City Music Foundation Artitst in 2016 and it is a kind of crowing achievement of our work together for two years as it is their artistic mentoring program. It is, indeed, an extraordinary opportunity. The other soloist of the evening is the violinist Michael Foyle, also an artist of the City Music Foundation and the conductor will be Michael Collins, a well-known English clarinetist, who has become conductor and will make his debut with the English Chamber Orchestra.

Let's talk about the piece you will perform, Piano Concerto No. 2 by Shostakovich, which is a work different in character from the other Shostakovich's compositions. It is cheerful, energetic, optimistic. What is your perception of this work?
Yes, it is really different. It is even different from the Concerto No. 1 that I performed in Bucharest in September. Concerto No. 2 is exuberant, without too much shadow or without this dark or even tragic dimension that we find in symphonies, but it is extremely ingenious.There are times when these shadows are very subtle because there are always many layers at Shostakovich, even when the message is very simple or clear. The concert was dedicated to the composer's son, Maxim, for the graduation of the Conservatory and in the third part there are quoted with affection passages from Hanon, which certainly are studied by every pianist during the first piano years. Surely, Shostakovich listened to his son for a long time studying these passages in Hanon, now transformed into the brilliant end of the concert.

After the event at the Candogan Hall in London, there will be other recitals and concerts this summer. Could you tell us, please, where and with whom you will perform?
There will be two solo recitals in London, at the Pinner Music Festival and after at the Chopin Festival in Perivale, which is near London. These two are in June. In July I will perform alongside the cellist Yoanna Prodanova, with whom I have a permanent duo at the Saint Magnus Festival in Scotland, Orkney Island. In August I will play the Concerto No. 1 by Beethoven together with the Romanian Youth Orchestra in Sinaia, Bucharest and Berlin - a small tour - , and in September I will make a new trip to Japan for several solo recitals.
Interview by Larisa Clempuș
Translated by Georgiana Nuțu, MTTLC An I;
Proofreading: Mihaela Ghițescu, MTTLC An II