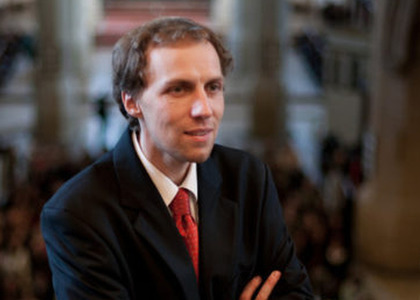 Interview with organist Steffen Schlandt
Thursday, 14 June 2018 , ora 8.56

The organ concert season at the Black Church begins tonight. The Black Church is the only one in Romania housing four organs. How will you capitalize on this heritage during the current season?
We now have the great opportunity of playing these instruments. Only one of them is original, specially built for the Black Church - the great Buchholz organ, 1839 - while the other three that are functional were brought from Transylvanian Saxon villages where the community could not take care of them anymore and we brought them to the Black Church in order to protect them. Two years ago, a functional organ was also brought from Roadeș, where the tower fell, and the fifth organ isn't functional, it's merely installed on the balcony. We will have concerts when we play two or even four organs at the same time. Not simultaneously, but alternatively, since they have different tunings, but we will try to make the most of them, so that the audience can experience this complexity of sound. They are very different instruments from different regions. Their sonority is quite different from one another and the national heritage is enriched through this diversity.

During this year's season, the audience will be able to enjoy the presence of musicians from Brașov and other cities in the country, as well as that of artists from Austria, Germany and the USA. How did you plan the season in order to capture the interest of both guests and audience?
For some years now, the Brașov season has enjoyed a rather large interest from tourists, especially foreigners, who come to Brașov, but they also hear about this thanks to maps or information about the city. On the one hand, travel agencies are interested and advise them to visit the Black Church and, thanks to the Internet, the organists have a chance to find a lot of information. There already are many recordings on YouTube that can be viewed and many people are interested to come to Brașov without us having to invite them. So it's an interest on their behalf in coming to us and we try to organize things such as international transportation, since we can't give them honoraria according to their true value. You can imagine, transport from America is quite expensive, but they combine concerts in Brașov with other concerts in Europe, so they manage to cover expenses.

What types of repertoire are featured this season? Are there only works of religious music?
The organ has a double function. It's a sacral instrument, used during masses and mostly for sacred repertoire, but there's also its concertante part, there are organs installed in concert halls that are specifically meant for sacred music. In Brașov, we play sacred music more than 90% of the time, but we don't want to exclude any works that have musical value. For instance, sonatas or preludes and fugues are not exclusively composed to be played in churches. One can play in other space as well. And the repertoire stretches over more than 600 years. So, the first testimonies for organ music come from the 15th century, even the end of the 14th, and we are trying to perform this vast repertoire as often as possible.
Interview by Petre Fugaciu
Translated by George Arion,
MTTLC 1, Universitatea București;
Proofreading: Violeta Baroana