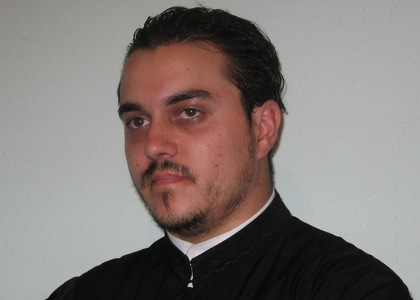 The Priest Nichifor Hrestic Speaks about the Byzantine Song Masterclass in Iași
Thursday, 19 July 2018 , ora 13.43

The 11th edition of the Byzantine Song Masterclass takes place in Iași between July 16th and 20th. The five-day program includes practical and theoretical classes of interpretation, vocal technique or kanonaki, as well as musical palaeography presentations. We found out more details from priest and teacher Nichifor Hrestic, founding member of the organizing association Bzyantion.

What topic did you choose for this edition?
The 11th edition gathers a number of 150 students from Romania and Greece. We have 12 guests from universities, conservatories and art schools from Greece and Romania, well-known European and international specialists in the theory and practice of Byzantine music, as well as the musical palaeography team from the University of Thessaloniki. The topic that we have approached this year is the celebration of mass in church.

I would like you to name some of the main events.
The current edition of the International Byzantine Song Masterclass includes several events whose audience differs. Thus, the theoretical and practical courses are addressed to people interested in the interpretation of the Byzantine music, such as members of church choirs, clerical staff, seminary students or students at faculties of theology or to whoever is acquainted with psaltic music and is interested in the improvement of the interpretative art. There are also optional courses for studying Byzantine musical instruments, psaltirion or kanonaki, for young people who want to improve their execution of intervals in different tonalities. There are also conferences about Byzantium, dedicated to the lovers of Byzantine musical palaeography, but especially to those who want to know the thematic interferences between Eastern and Western European music. We also have a book launch, a long awaited moment by the national community of the Byzantine musicologists. It is about the release of the book with church songs, without precedent in the history of the Romanian musical prints. The event continues with a vigil mass officiated at the St. Sava Church in Iași, on the evening of July 19. The event ends with an extraordinary concert addressed to the general audience that loves the religious Byzantine music, which will be held at the Metropolitan Cathedral in Iași on Friday, July 20, at 19.00.
Interview by Ana Diaconu
Translated by Georgiana Nutu, MTTLC 1, University of Bucharest;
Proofread by Violeta Baroană