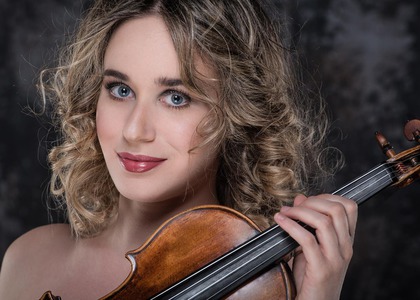 Interview with Anna Tifu, soloist at the Royal Concert of October 25th
Monday, 29 October 2018 , ora 9.34

The Princess Margareta of Romania Foundation continues the tradition of supporting and promoting Romanian culture and talent, through the eleventh edition of the Royal Charity Concert. Organized annually on October 25th, the Royal Concert is one of the most long-lasting and successful fundraising events in Romania. The funds raised from sponsorships and donations amounted to over 1,300,000 euros, an investment made in Romania's artistic future.
On October 25th, 2018, on the stage of the Romanian Athenaeum, gifted musicians from the new generation, who enjoy international recognition, are reuniting: violinist Anna Tifu, pianist Mihai Diaconescu and conductor Constantin Adrian Grigore. The program of the event is celebrating 100 years of Romania. In the following interview, we talked to violinist Anna Tifu.

Anna Tifu, you have been invited to perform at the Royal Charity Concert of October 25th.
First of all, it has always been a pleasure for me to return to Bucharest, as I have Romanian roots. My father comes from Bucharest; I won the Enescu Competition in 2007, so I have many beautiful memories of Romania and it is a country that I honestly love. I felt honoured to be chosen to perform at an event of such great significance. It helps young people who lack the financial means to study, which is very difficult, and I've been through that, so the purpose of this event is close to home for me. I am also honoured to perform in the wonderful Romanian Athenaeum, a place full of memories for me. I am very happy that I have been chosen for this concert!

What have you chosen to perform?
I will perform the Sarasate's Carmen Fantasy and Ciprian Porumbescu's Ballad. I have chosen the Ballad, of course, because I wanted us to play a Romanian piece, and I know this ballad very well, as my father used to play it very often. Every Romanian musician has played this piece at one point. It was also a matter of timing. I have to play for half an hour in total, so I thought of the two works: one by a Romanian composer and the Carmen Fantasy, which is a showstopper, especially considering that the audience will not be entirely made up of musicians. Carmen is a piece that everybody knows, so I discussed it with the conductor and we decided that it was the best choice.

You have recently made your debut in Paris. Could you tell us more about this event?
I played at the season opening concert of the Radio France Philharmonic Orchestra, in Paris, conducted by Mikko Franck. It was a wonderful experience; the audience was wonderful, as well. It was a real success. I was afraid of critique after the show, as it is crucial for a musician to get positive reviews, and they were all very encouraging, so it was wonderful in all respects. I liked the orchestra and Mikko Franck, we played two French compositions, Chausson's Poème and Ravel's Tzigane. It wasn't easy for me to perform a French program for the people there, as I was not from France. It was a wonderful experience!

What are your plans for the near future?
Following the show in Bucharest, I will perform Brahms' Violin Concerto in San Remo, then I will hold a recital at a Chamber Music Society in Rome and I will also hold a recital with Julien Quentin. Then I'm going to Beirut, for Al Bustan Festival; I have concerts in Belgrade. Furthermore, my next project implies returning to Romania for the Enescu Festival in 2019.
Ana Diaconu
Translated by Mădălina Grosoiu, Anul 1, MTTLC