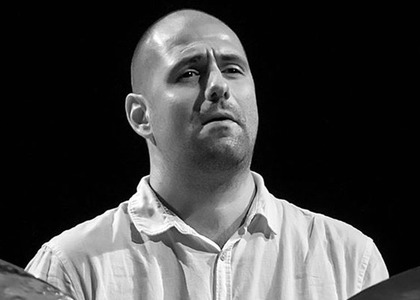 Interview with percussionist Vlad Popescu about the project 'I remember Johnny'
Monday, 19 November 2018 , ora 10.56

The concert "I remember Johnny" takes place on November 14th, at Act Theatre and the program is made up of arrangements of Johnny Răducanu's works.

What was the idea that started it all?
We came up with the concept of a jazz season in 2009-2010, precisely with the purpose of reintroducing and re-growing the jazz market, by carrying out a series of musical projects, some more accessible for the audience, others, indeed, on the newer side of jazz. The project "I Remember Johnny" was initiated by Cristian Soleanu, who himself played together with Johnny Răducanu for quite some time, and we set up this project last year, I believe, when we first introduced it during the Johnny Răducanu festival at Brăila Jazz. The project had been introduced before, with a different orchestra, the Radio's Big Band. This month, I wanted to change a few things in the Jazz Season and I realized I Remember Johnny is a worthy project, which absolutely must be a part of the season.

How exactly did you choose which of Johnny Răducanu's works to perform?
From the start, Cristi wanted the playlist to consist in Johnny's famous works and he chose Pe Olt, Blues Molday, Jocul țambalelor, Serpentine, Joc. These are some of Johnny's most performed songs, the audience knows them and we thought it's the best playlist option.

Will your ensemble also perform these arrangements later on? Is there any other option for those who can't make it to this concert?
One of the options is for them to listen to it on the radio on December 1st. That's one option. Regarding the other, we want this project to tour the country, Bucharest included, of course. Probably in other locations, probably even at the Sala Radio. What's for sure is that the project will be ongoing for a long time, I think, it will tour the country.

How do you think or how do you expect the concert on the 14th will be received?
To be honest, I haven't checked it out today, but by November 14th, the concert will certainly be sold-out. The audience knows what to expect. I'm sure there will be positive feedback.
Interview by Petre Fugaciu
Translated by Mădălina-Andreea Grosoiu, 1st year MTTLC student