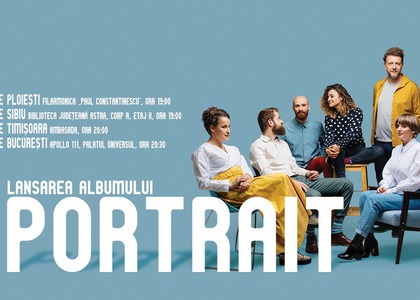 Interview with Bogdan Tudor (Blue Noise)
Monday, 19 November 2018 , ora 11.02

The musician spoke about the debut album of the band and about the concert from the 15th of November
Mister Bogdan Tudor, when did the musical adventure called Blue Noise start?
Blue Noise started three or four years ago, all of us being members of other bands similar to ours at that time, thus we intended to start together on this path and we did it, in a more commercial area for a first song, at the Eurovision Song Contest in 2015.

Who or what inspired you to take on this a cappella road?
I have always wanted to do this. Ever since I attended the conservatoire, where I sang in the Madrigal Choir. There, my views on music changed, on singing together, on listening to others. This desire to sing with others, not necessarily solo, develops inside of you. It is an unusual thing that brings us much joy and consumes us.

You will have a release tour for your debut album, called "Portrait", on which we'll find songs composed by the members of the band. What elements that define you can we identify in this album?
"Portrait" is our debut album. It's about us together, working in a voice laboratory - as some like to see us; it's probably true - everyone brings their own personality, practice and musical influences, creating a style that is quite eclectic. I believe that defines this album.

Are there any tickets left for the concert you will perform on 15th of November at the Univers Palace in Bucharest?
We hope to create enough buzz to fill the auditorium. We also have an interesting stage design; not extravagant, but interesting. So, to those who want to come to our show on November 15th, in the Apolo Room 111 at the Univers House - we'll be waiting for them. The tickets are on sale. On our facebook page, you can find all the details for where to buy tickets. We will welcome them with our album, with everything we have and the highest energies.
Interview by Monica Isăcescu
Translated by Filipov Mădălina, MTTLC, 2nd yea