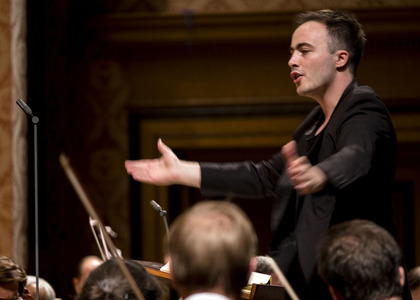 RadiRo 2018 – Interview with conductor Ben Gernon
Wednesday, 28 November 2018 , ora 10.59

Friday, 23rd of November 2018, young conductor Ben Gernon will conduct the BBC Philharmonic at Sala Radio, in a concert as part of the RadiRo festival. The British musician, who in the current season is the principal guest conductor of the aforementioned prestigious orchestra, gave us an interview in which he discussed his amazing career at the age of 29, his projects and the concert he will hold in Bucharest.

Mister Ben Gernon, you're the principal guest conductor of the BBC Philharmonic and one of the youngest conductors to hold a leading post as the head of a major British orchestra. What does this mean to you? Do you feel any pressure, or are you just glad to have this wonderful experience?
I've already been working with this orchestra for a few years. Since the position was offered to me, it's been an excellent time and I've already worked on a wonderful repertoire together with the orchestra. I'm really enthusiastic, but there is also some pressure, since I have a responsibility to the orchestra. But it's an exceptional team of musicians and we work very well together. I enjoy every minute of it.

When and how did you realize you wanted to be a conductor?
I probably realized it when I was around 15 years old. I had always wanted to be a leader and, at the same time, I loved music. Then I had the opportunity to conduct my school orchestra and I really loved it. It seemed so interesting to me, how as a conductor, you can significantly influence sound, dynamics and interpretation. I felt a lot of joy and delight conducting. That's when I knew I wanted to be a conductor.

Before being a conductor, you studied tuba and were a member of the Birmingham Symphony Orchestra. Was that experience, playing the tuba, helpful to you in your work as a conductor?
Absolutely! When you play the tuba, you spend a lot of time looking at conductors, because you're not always busy, you don't play an entire symphony on the tuba. So I've seen many great conductors. One of them is Sakari Oramo, who really had a great influence on me. Similarly, when you're behind the orchestra, you can see all the instrumentalists interacting with one another and you can understand how the orchestra works from the inside.

You studied with two great conductors, Sir Colin Davis and Sian Edwards. What did you learn from each of them and how did they influence you?
They are two great musicians and conductors. But, for me, they were both very different. Sir Colin Davis was very calm, and the greatest lesson I learned from him was that if you treat the orchestra like a bird in your hand, you don't want to squeeze it too hard, but offer it enough support to keep it safe. He also taught me to breathe together with the music and the musicians and give everyone enough room.
On the other hand, I consider Sian Edwards to be the queen of conducting, as she taught me these wonderful techniques she learned in Russia, where she worked for a while. So I had the opportunity to learn the technique of conducting from her and an amazing sense of philosophy from Sir Colin Davis. In that sense, I consider myself lucky.

Five years ago, you won the Salzburg Young Conductor's Award. Do you think it's important for a young musician to win competitions? Did this award help you launch your career?
Yes! It was immensely helpful to me. My destiny changed overnight. I won the competition and the next day, representatives of the Los Angeles Philharmonic called me and asked me to conduct the orchestra in the Dudamel Fellows programme. So, as far as international exposure goes, this award helped me greatly. I don't know if competitions are always right for everyone, but for me I feel it was one of the best things that ever happened to me in my career.

You've conducted prestigious orchestras of Europe and the United States of America. Do you think there are differences between radio orchestras and other ensembles, regarding interpretation style and repertoire selection?
With a radio orchestra, I think you have much more freedom in terms of establishing programmes. You're tasked with finding and conducting pieces that haven't been interpreted before or scores which were once lost and found again. There are great differences in style and interpretation between all the orchestras I've worked with. For example, in the Chicago Symphony Orchestra, the brass section is very homogenous, really polished and gives a wonderful sound to the entire orchestra. When I worked with the Czech Philharmonic Orchestra, I noticed the wind section had a very expressive timbre and the strings added extra depth to the overall texture. And the BBC Philharmonic has a convincing style and masterful control over sound. So every orchestra is different. But, what really is great about working with the BBC Orchestra is exploring different pieces and repertoires, which I might not choose for another symphonic orchestra.

You've already recorded a debut album, featuring works by Sir Peter Maxwell Davies. Is contemporary British music one of your priorities when choosing a repertoire?
Contemporary music in general is a priority for me. I can't say I only promote British composers. The special thing about my collaboration with Sir Peter Maxwell Davies was the fact that it was towards the end of his life, so for me it was a unique opportunity to record some of his most valuable works. This wonderful composer had a remarkable career in Great Britain and beyond, so it was a privilege and an honour for me to create a remembrance of his works.

Any favourite composers?
Good question. I love Stravinsky, Rachmaninoff, Mozart, Beethoven, Brahms and I enjoy the operas of Puccini and Verdi. In fact, I love it all - classical music, romantic and everything in between.

Simon Webb, general manager of the BBC Philharmonic, spoke of your passion for contemporary music, reaching younger audiences and exploring new technologies. How do you intend to bring young people into concert halls, and how would you combine music and technology?
We have many pilot studies right now, for example combining film with music. It's no longer about just interpreting or listening to an orchestra. I'm interested in stimulating the imagination and the senses, exploring spaces, light, combining video projections with an orchestra. I hope we continue in that direction, which I think is more appealing to my generation. It's not fashionable for a 20-year old to attend a classical music concert. So it's about making these concerts more accessible, approachable and creating new experiences, so people don't feel isolated or afraid to go to a concert.

Have you ever been to Bucharest?
I've never been to Romania before, so I'm quite excited about it.

In the concert at Sala Radio, the soloist will be young Hungarian violinist Kristóf Baráti. As far as I know, you've worked with him before.
Yes, that's right. We have actually already performed the piece we will play in Bucharest, Bela Bartok's Piano Concerto No. 2. He's a wonderful violinist, he has an excellent grasp on his instrument, total technical control. He also has an adventurous soul. During a concert, you never know where exactly he'll go and I really like that. I like the electrifying way in which he plays.

Please tell us about the programme you will present in the RadiRo festival. Two very difficult pieces composed in the first half of the past century - Bartok's Piano Concerto No. 2 and Rachmaninoff's Symphony No. 2. How do you intend to approach this programme stylistically?
Bartok is a really demanding composer, complex both rhythmically and tonally. As a conductor, the greatest challenge is ensuring that everything is technically sound, as well as letting the music breathe. Knowing lead Kristof Barati's interpretative style, I think it will be a soulful, vibrant concert.
Regarding Rachmaninoff's Symphony No. 2, I remember first hearing the third movement, the Adagio. Its beauty brought me to tears... I was profoundly moved. For me, this piece is difficult in the sense that it is considerably long. And I feel a bit sorry for Rachmaninoff because, even during his time, musicians would play an abridged version of it, lasting approximately 35 minutes, instead of the entire thing, which is an hour long. I think in this way they were really undermining Rachmaninoff, because the composer's sense of structure, phrasing, harmony and thematic development is very strong. We'll have to find a colourful interpretation, with moments of reflection, as well as vigour and greatness, moments where you see the sun rising on the horizon. I hope this concert will be an extraordinary emotional roller coaster.
Interview by Larisa Clempuș
Translated by Victor Macry, 1st year MTTLC