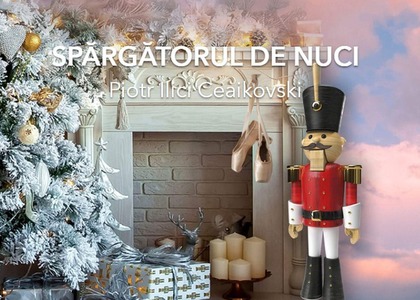 Oleg Danovski about the the premiere of Tchaikovsky's ballet "The Nutcracker"
Thursday, 29 November 2018 , ora 10.17

Today, 10th of November 2018, at 06:30 p.m.. the National Opera in Bucharest will be hosting the premiere of Pyotr Ilyich Tchaikovsky's "The Nutcracker" - under conductor Iurie Florea's baton - starring Ada Gonzalez as Clara, Cristina Dijimaru as the Sugar Plum Fairy, Ovidiu Matei Iancu as the Prince, Michele Tirapelle as Drosselmeyer and Răzvan Cacoveanu as Fritz. This production, directed and choreographed by Oleg Danovski, is an adaptation of Danovski's father original version from 1984.

From a director's and a choreographer's point of view, how would you briefly describe your approach towards "The Nutcracker"? What are the differences between the original and your adaptation?
Let's say that it is a slightly more special approach because this version which we will be performing at the Romanian Opera will be focusing more on the oneiric, namely the dreaming realm. It is a two-act ballet. The first act starts with a small town somewhere in Germany, where the mayor and his family are celebrating Christmas Eve. He has two children, a boy and a girl, and after the celebration unwrapping of the Christmas gifts, the girl takes a fancy to the toy Nutcracker, who is also the eponymous character. Then she starts dreaming and this is how the second act of the ballet begins. With the help of both her uncle and the Nutcracker, she travels to the Land of Sweets.
What's special about my adaptation is that this whole Land of Sweets is happening in the Christmas Tree. Of course, I tried my best to respect the time and space. There are also some differences regarding the stage design, as we have new, more modern technologies at our disposal. But obviously, everything is based on my father's directing and choreography from the 1984 production.

Who are the artists you've collaborated with for this ballet?
Andreea Koch is the stage designer. There are four main characters: The Sugar Plum Fairy, The Nutcracker Prince, Clara and Drosselmeyer. I'll mention just some of the names of the artists that play the main characters: Ovidiu Iancu, Cristina Dijmaru, Bogdan Cănilă, all of whom have handled this challenge marvellously. I'm really excited!
Written by Ana Diaconu
Translated by Ivan Alexandra Simona, MTTLC, 1st year