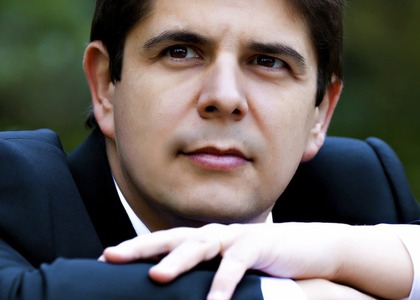 RadiRo 2018 – Interview with pianist Javier Perianes
Monday, 3 December 2018 , ora 15.02

Pianist Javier Perianes will be the soloist of the National Radio Orchestra concert on Sunday, 18 November, at Sala Radio, as part of the RadiRo Festival.

Having turned 40 in September, the Spanish pianist Javier Perianes has rich international experience with musical collaborations as a soloist, on different continents; our phone conversation also revealed his special appreciation for Romanian musicians he heard about or read about, or with whose live performances or records he is familiar.
I have always been a big admirer of Romanian musicians, ever since the beginning of my career. I had the chance to watch the great Romanian pianist Radu Lupu a couple of times, and they are some of my most impressive memories about a pianist performing a concert or a solo recital; I greatly appreciated his way of interpreting Schubert, Mozart, Beethoven and Janacek. Regardless of the work tackled, if I were to list three or four performers who won my heart, Radu Lupu would be, undoubtedly, among them. I gave a long interview in London the other day, for BBC, and I spoke about one of the greatest pianists in all history (from my point of view) and he is also Romanian: Dinu Lipatti. I'm a big fan of his version of Schumann's Piano Concerto, of Chopin's Waltzes; unfortunately we can only listen to recordings from his time, as we lost him too soon. I am still a big admirer of his. And, of course, he's not the last one on my list of favourite Romanian artists. I heard great accounts of the remarkable qualities of the excellent teacher Florica Musicescu, who also taught Dinu Lipatti; Cristina Bruno, a great Spanish pianist told me about this extraordinary teacher and her pedagogical skills. These are only a few aspects that I can remember now, about some great Romanian musicians that I have always admired a lot.

You only mentioned names related to pianistic art. Over the course of your career, have you ever collaborated with any Romanian conductors?
As far as I can remember, I haven't worked with any of them yet. I've had people tell me the greatest and most amazing things about Christian Badea, who I know is Romanian. So far, we haven't had the chance to work together. I already had the opportunity to collaborate with so many conductors, but, unfortunately, none of them were Romanian and - undoubtedly - I can't wait to get the chance to work with one of them.

Have you ever performed with Jean Claude Casadesus before?
No. This is the first time. Given that he is French, I hope he has a lot of interesting things to say about this concert and I am looking forward to working with him.

What drew you to Ravel's Piano Concerto in G Major, did it have any special meaning for your career?
When I was very young, Ravel'sPiano Concerto was one of those piano concertos that you really want to perform. In its 3 parts, which are quite short, it concentrates all that you can dream of. Its middle section is truly magical - perhaps one of the most relevant, wonderful scores of a piano concerto one could have ever imagined. The other two parts are pretty much inspired by jazz -perhaps a giveaway of how Maurice Ravel was influenced by his travels to the United States. I first interpreted this concerto more than 10 or even 15 years ago, when I had the chance to perform with the London Symphony Orchestra and Daniel Harding, during a tour in Portugal and Spain, and I was asked to play this Piano Concerto in G Major by Maurice Ravel. I think it was 2005… I can't remember exactly. I first started performing this piece that season in Spain, with different orchestras. Since then, I have played it with different British orchestras: the London Symphony, the London Philharmonic, Orchestra Philharmonia, the BBC Symphony, and more recently with the Toronto Symphony Orchestra and other orchestras in the United States. This month I will be playing it here in Bucharest, of course, but also at Gewandhaus in Leipzig and in Berlin, together with Konzerthausorchester.
Last season I also recorded this concerto with Orchestre de Paris, for a record that will probably come out in the summer of 2019, along with other works by Ravel. So, Ravel's piano concerto has become a long-time partner in my career and I am very happy about it, as it is a piece I truly love.

Based on your experience, could you sketch out an image of the differences between your various audiences around the world? What do you expect from the audience in Romania?
There are perhaps certain differences related to audience reception: you have probably heard of the audience in Japan, which is very quiet, silent and you get a wonderful response from the people, because that silence they offer you all allows you to develop everything you want to express. On the other hand, there is also that attitude that you can find in South America, where people express themselves with a lot of passion in every situation, which is quite the same in the United States, too. Listeners in Europe are also great… I have a feeling, and also a theory: if the audience likes what you are doing, if you meet their expectations, they will manifest their enthusiasm regardless of where you are. Regarding Romania, what could I tell you? It is my first time here and this is why I don't know what to expect, so I won't say anything in this respect. Nevertheless, I know for sure that this is a country with a long history of classical music; of course, I am talking about first-class festivals, prestigious conductors, great pianists and other artists who are renowned all over the world. I hope for the best and I am looking forward to my first interaction with the Romanian audience.
Interview by Anca Ioana Andriescu
Translated by Mădălina-Andreea Grosoiu, 1st year MTTLC student