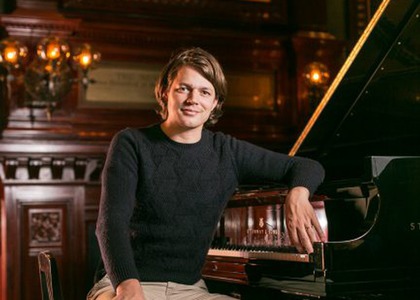 RadiRo 2018 – Interview with pianist David Fray
Monday, 3 December 2018 , ora 15.10

RadiRo's second concert on November 21st featured the National Radio Romania Orchestra under conductor Frederic Chaslin's baton. The programme included Pyotr Ilyich Tchaikovsky's fantasy-overture Romeo and Juliet, Rimsky Korsakov's suite Scheherazade and Robert Schumann's Concerto for Piano and Orchestra in A Minor. David Fray was the soloist in Schumann's piece. The following excerpt is from the interview the musician gave us on the day of the concert.

David Fray, it's an honour for us to hear you perform this evening for the first time in Romania at the RadiRo Festival.
I thought that this could be a great chance for me to finally discover this country, which gave the world so many talented musicians. I'm thrilled and also thankful to be a part of this festival. The concert hall is great, the acoustics are perfect. The orchestra is very professional. So far, everything is going great.

How would you describe conductor Frederic Chaslin?
He is trustworthy, professional and very thoughtful. He carefully listens to what the soloist is doing, which is a very important aspect. He is also an opera conductor and this comes in handy when performing concerts.

Tell us about the Schumann Concerto that you chose for the RadiRo Festival.
This has to be my favourite concerto from the romantic repertoire. It's a piece with many facets. Schumann's music is generally laden with a variety of ambiences and moods. It has everything from poetry, reverie, and passion, to love and dance in the last part. Also, Schumann has this wonderful way of balancing the piano and orchestra harmonics. Because his music often lacks logic, performing it can be really demanding. His writing style is not a rational one; sometimes you have to link pieces that seem to have nothing in common. It is a challenge to add coherence to such musical language, which proves to be quite surprising.

Generally speaking, how do you approach a musical piece when you study it for the first time?
When I read a score for the first time, I'm always curious to see if I myself am able to understand it, which is also a thing I've heard other musicians do. At times, you can be taken by surprise by the fact that you don't relate to what others are doing. When you first start studying, it's best to somehow create the whole concept from scratch. But I admit that my main goal is rendering the beauty of the piece that I'm learning, so that the audience can feel and understand it as well. I try to find the best way to make it sound as lively as possible and I want the audience to be as impressed as I was when I listened to the piece for the first time.
Written by Ana Diaconu
Translated by Alexandra Ivan, MTTLC, 1st year