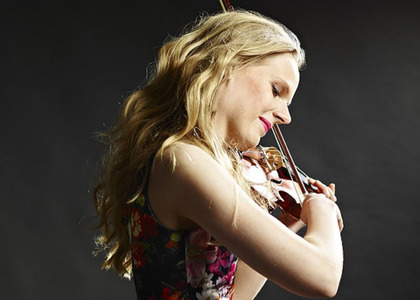 RadiRo 2018 - Interview with violinist Simone Lamsma
Monday, 10 December 2018 , ora 9.47

Violinist Simone Lamsma is the soloist of the MDR Leipzig Radio Symphony Orchestra concert, which will take place Monday, November 19th, at Sala Radio, as part of the RadiRo Festival.

Simone Lamsma is 33 years old, Dutch, one of the best violinists today, she performs on a 1718 Stradivarius Mlynarski, she receives positive feedback from the critics, some of them comparing her brilliant, expressive, intense style to that of Jascha Heifetz. We met her last autumn at the Romanian Athenaeum during the "George Enescu" International Festival. At that time Simone was the soloist during a performance of Camille Saint-Saens' Violin Concerto No. 3 in B Minor, op. 61, together with the "Les Siècles" Ensemble conducted by Francois Xavier-Roth. In Bucharest, Simone Lamsma will perform together with the MDR Leipzig Radio Symphony Orchestra conducted by Robert Trevino, this time as part of the RadiRo Festival.
"Last autumn I performed in the amazing hall of the Romanian Athenaeum. It was an incredible pleasure and an extraordinary experience for me to perform in front of such a warm-hearted audience. The feeling of being surrounded by music lovers is unforgettable. I cannot wait to perform again, this time as part of the RadiRo Festival. It's amazing that in Europe there are so many radio orchestra ensembles, with such a wide repertoire. Personally, I am glad to perform in Bucharest again, together with the MDR Leipzig Radio Symphony Orchestra. We performed Max Bruch's Violin Concerto No. 1 in G Minor a month ago in Leipzig, so we had enough time to study the piece and we are able to perform it at the RadiRo Festival."

Violinist Simone Lamsma will perform during the second day of the RadiRo Festival. She is a musician who lets herself be discovered through her passion for the instrument and the music she performs for the audience.

"The key is to always concentrate on the music. The scores are our Bible, the Bible of musicians. We will always respect them. There are so many things written on the scores, but at the same time there are plenty of things left unwritten. The one who performs that piece will bring their own vision and feelings. It is essential that the audience, and I hope this is clear during my performances, first listen to the composer and then to the musician on stage. This is what happens during Max Bruch's Violin Concerto No. 1 in G Minor, which I will perform at the RadiRo Festival. Everything starts with reading Bruch's score correctly. I am glad to share this vision with the conductor, Robert Trevino, a musician who pays close attention to details. We performed this violin concerto before, and we are always looking to find new elements that we can bring forward, as if we were performing a new piece. Bruch's concerto is performed so often, being a popular piece because it is so rich and expressive. This opus lets you put everything together as a performer. First of all, you respect the score, as I was saying, but on the other hand, you go on stage and you give 100%, you put your soul into it. This continuous balance helps you share with the audience the love for this music, share passion and enthusiasm with other people."

I talked to Simone a week before she came to Bucharest. I found in her a brilliant interlocutor, a musician who is grateful for everything that has been coming her way for 20 years. She is lucky, as she said herself, because even before making a conscious decision, music chose her when she was only two years old. Simone Lamsma:

"I was very young when I saw someone playing the violin on TV. The impact was incredible. It may not seem true, but I was completely enchanted by the instrument and the emotions conveyed by classical music. Nothing could compare with the way music spoke to me back then. Starting out so very young, and continuously focusing on music, I feel lucky now. Not everyone can develop such an ardent passion and find a reason, a destiny, so early in life."

But it was not easy for Simone Lamsma. I was surprised to find out that it was difficult to study music seriously while following normal education in the Netherlands in the 1990s. Searching for the most devoted teachers, the child had to travel across the country for violin, piano and music theory lessons, or for performing with an orchestra. Everything started when she was five years old. In 1996, with the consent and support of her family, Simone decided to change this schedule completely. At 11, she left the Netherlands to study in London. She went to the Yehudi Menuhin School, where she studied under Hu Kun. She continued her education in the UK at the Royal Academy of Music. Simone Lamsma was 19 when she graduated from the academy with flying colours. Looking back, Simone knows where everything came from and, more importantly, from where her future inspiration sprang.

"The closest people to me, those who had the greatest influence, were, of course, my parents, with all their support and the fantastic freedom that they instilled in everything I did. I had, of course, the privilege of meeting extraordinary violin teachers, amazing music teachers. Generally, however, I think any hardworking, honest man inspires me. Inspiration doesn't have set boundaries for me, it is not limited to music, neither to people, I find it in everything that surrounds me every day. I hope that I will always stay open-minded and I will be able to see the diversity in so many things that inspire me every day."

Balancing the advantages and disadvantages of being a soloist-violinist, Simone Lamsma is just as frank.

"I am privileged to be able to make music every day, this art is my passion. For me, the most beautiful means of communication with other people, with my colleagues on stage or with the audience, is music. The fact that we need to fit our passion into a very fast-paced lifestyle, even an artistic one, is perhaps difficult. Everything happens so fast now, every week brings a new project. That's why I don't have enough time to reflect on important matters. This is what I intend on doing, meditate more, I don't know whether I'll succeed."

Simone Lamsma is a beautiful, blonde young lady, with a passion for what she is doing, rewarded for her enthusiasm, a sea and nature lover in general, crazy about Italian cuisine. I found out, off the record, that her only ritual before a concert is to eat pasta, so that she has enough energy for the whole night. Simone Lamsma, a normal person in a fast-paced world, a musician who never saw herself doing anything else.

"It is difficult to choose because I don't see myself doing anything but music. It's in my veins, it's part of me. I'm sure there are other interesting professions, but it's impossible for me to envision myself doing anything else."
Interview by Corina Rădoi
Translated by Alina-Nicoleta Duminică,
MTTLC 1, Universitatea din București