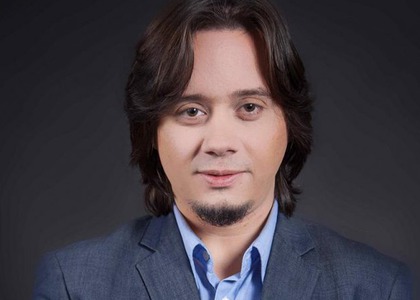 Interview with conductor Gabriel Bebeșelea
Monday, 10 December 2018 , ora 9.54

On the 28th of November, Gabriel Bebeșelea will be leading the "Transylvania" State Philharmonic Orchestra of Cluj-Napoca in a concert in Rome celebrating Romania's Great Union Day.

This concert is organized by Academia di Romania from Rome, the Embassy of Romania in Italy and the Romanian Cultural Institute. It marks the Romanian National Day and the Great Union's Centenary. With what repertoire will you honour such an invitation?
The repertoire focuses on Romanian music dedicated to Romanian culture. It is very diverse and it represents many Romanian stylistic periods, starting with Bela Bartok's Romanian Folk Dances and ending with Sabin Păutza's Jocuri II. In addition, the great mezzo-soprano Ruxandra Donose will be joining us as a soloist in three of Nicolae Bretan's lieder to the verses of Eminescu. Quite an eclectic repertoire, trying to encompass the Romanian cultural palette in its entirety.

All this, and it will still be accessible to the audience, right?
Of course. We wanted to perform pieces that are both interesting and popular, those that can express - in the context of the Centenary - the energy and vitality of Romanian music.

The Rome concert, which will take place at the Sinopoli Hall, is just one of the many musical centenary events that the Philharmonic Orchestra of Cluj Napoca, under your baton, either organized during this period or performed as a guest. What can you tell us about the other events?
We've already started our Centenary programme, which made its debut in Cluj-Napoca with Bartok's Romanian Folk Dances, Sigismund Toduță's Concerto no. 1 for Strings and George Enescu's symphonic suite, Poema română. The interesting thing about this concert is the fact that this musical restitution project was our idea, mine and the Transylvania Orchestra's. As an example, let's take Sigismund Toduță's Concerto for Strings. It used to have four parts, but Toduță removed one of them, saying that the rehearsal before its very first performance wasn't as good as he expected it to be - therefore only three parts remained. However, we managed to restore that part, and the premiere of the Concerto no.1 for Strings was exactly how Toduță wanted it to be. After Rome, we have another project that continues this classical music revival theme. It will happen on 7th of December and it will host the premiere of five pieces by George Enescu. These pieces were initially kept at the George Enescu Museum, where I actually went to do my research. I transcribed the scores and arranged the orchestra parts. We ended up with two brand new George Enescu overtures, a cantata for a women's choir, soprano and orchestra, a fragment from the "The Ghosts" - an oratorio which I recorded in Berlin with the Rundfunk Sinfonieorchester - and an oratorio that's almost finished - there's only one small part of it that is still in the making. I managed to reconstruct this new oratorio, titled Ahasverus, from what the remaining materials.

Now let's get back to the concert in Rome. If I'm correct, this is your second time celebrating the Great Union Day abroad as a conductor.
Last year, the Romanian Cultural Institute in Vienna invited us to perform an homage to the Great Union Day in one of the world's most renowned halls, a true musician's Mecca - the golden hall of Musikverein. This is also where I conducted another programme dedicated to Romanian music: Enescu's Symphony no. 1 and Enescu's Pastorale-Fantaisie featuring the amazing pianist Alexandra Dariescu as a soloist. I also collaborated with her on Grieg's Concerto and Lipatti's Concertino. We chose Grieg because it was Lipatti's favorite concerto.

What does celebrating the Great Union Day on stage abroad mean to you?
It is a great way of promoting Romanian culture, which is exactly why I am so happy to be abroad on December the 1st. It's a way to prove the value of Romanian music, which puts up a fight to other musical cultures all around the world.
Written by Luminița Arvunescu
Translated by Alexandra Ivan, MTTLC, 1st year