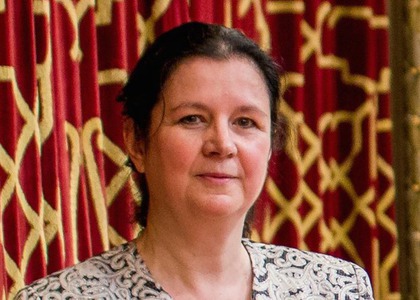 Interview with composer Livia Teodorescu Ciocănea, who will be celebrated in a special birthday concert at the Cantacuzino Palace
Monday, 25 February 2019 , ora 10.39

On Monday, 18th of February at 6 p.m. there will be a recital dedicated to Livia Teodorescu Ciocănea, who turned 60 on the 4th of February. The concert's programme will include full versions to some of Teodorescu Ciocănea's compositions performed by pianist Violetta Stefănescu.

Why did you choose these particular pieces for Monday's performance?
The recital programme itself is actually a collection; namely, a collection of all the piano pieces I have written in the last years, but also in my youth. The programme starts with a suite called "Cortege des nymphes" (Cortege of the Nymphs), inspired by mythological creatures, and it contains pieces written between 2013 and 2018. Next, we have a piece I wrote when I was younger. Pianist Violetta Stefănescu extended the evening's repertoire by choosing my work, and she will be performing my solo piano pieces. We will also be playing Sonatina Buffa for piano four-hands together. As a bonus, I have invited Andreea Carmen Marin - who is a first year student at the Vocal Performance M.A. - to sing three of my lieder. The first one is on Petrarch's verses, and it has a delicate and fragile yet passionate sound; the second lied's verses are from Nichita Stănescu's "Autumn's Gospels", and the third one is Mihai Eminescu's "Melancholy", written in November 1989, right before the Revolution started.

How would you describe the two interpreters?
My collaboration with pianist Violetta Stefănescu was delightful, rather exceptional even, as she showed great interest in our country's music. My compositions were not the only Romanian pieces she has performed. Violetta is an awe-inspiring pianist, and Andreea Carmen Marin has a wonderful voice; she is constantly evolving as an interpreter and as a vocalist. Seeing her study my music with such enthusiasm made me extremely happy.
Written by Petre Fugaciu
Translated by Alexandra Simona Ivan,
MTTLC, 1st year, University of Bucharest