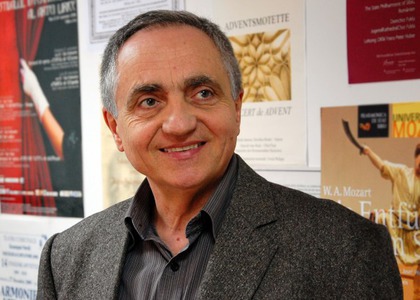 Interview with Ioan Bojin, manager of the Sibiu Philharmonic Orchestra
Monday, 4 March 2019 , ora 10.56

Sibiu Philharmonic Orchestra celebrates 70 years of activity with a festive concert on Thursday, the 7th of February, 2019. The concert will be conducted by Constantin Adrian Grigore. The programme for the evening includes works by Johann Sebastian Bach, Giuseppe Verdi and Gioachino Rossini. Flutist Ioan Bojin, manager of the Sibiu Philharmonic Orchestra told us more about this event.

How would you describe the 70th anniversary of the Sibiu Philharmonic?
The State Philharmonic Orchestra of Sibiu is one of the oldest musical institutions in Romania, an institution that has never ceased to grow in its 70 years, and I think it is one of the most important institutions of music in the country. Their musical activity is incredible. Beyond the symphonic seasons, which are conducted year round, the Sibiu Philharmonic Orchestra also organizes musical festivals, like the Romanian-American Musical Days, the Sibiu Opera Festival and international contests like The Carl Filtsch International Competition. All these events show us a very well rounded musical agenda that caters to the public.

You mark this anniversary with a festive symphonic concert. What does the programme look like?
The programme of the evening is a mixture of musical elements, but I've started from the idea of reviving some of the works played 180 years ago, in 1839, when The Musical Association of Sibiu Hermannstädter Musikverein was founded. Back then, they marked the birth of the institute with a concert, and many works that were performed then will be included in our anniversary concert. We wanted to draw a parallel and dive into the history of this institution because although we are celebrating only 70 years of activity, the history of this association begins much earlier.
The concert's soloists are the musicians of the State Philharmonic Orchestra of Sibiu. Among them, I would like to name one of orchestra's concertmasters, Cosmin Fidileș, and Elena Borz - the two of them will perform Bach's Double Violin Concerto. Next comes the soloist of the Philharmonic, cellist Cristian Florea; and viola player Gabriel Silișteanu, who will perform Kol Nidrei by Max Bruch. Last but not least, a spectacular piece for two flutes, performed by Ioana Bădescu and Raluca Ilovan. Conducting this concert will be the young conductor Constantin Adrian Grigore who, for some time, served as the artistic consultant of the State Philharmonic Orchestra of Sibiu, and often makes guest appearances conducting the Philharmonic's concerts.
Interview by Ana Diaconu
Translated by Nițu Diana-Alexandra,
MTTLC, 2nd year, University of Bucharest