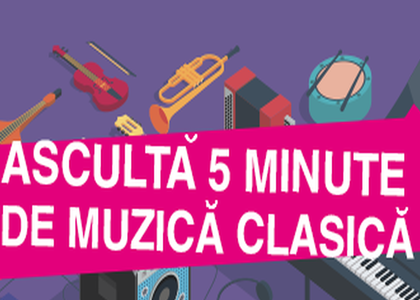 Interview with Alina Tohohod, brand and communication manager at Leroy Merlin
Thursday, 7 March 2019 , ora 13.50

Leroy Merlin Romania is the newest partner of the '5 Minutes of Classical Music' project. The campaign takes place every year, in March and October.

Why did Leroy Merlin choose to get involved in such a cultural project?
We love this kind of cultural initiatives and we want to bring joy to all those Romanians who enter Leroy Merlin stores.

Why is it important to have this kind of projects in Romania and in general?
We believe it's important to spread valuable classical music, to make it more accessible to Romanians but especially to young people; in a fast moving world, classical music is an oasis of peace, culture and civilization.

Is it importantto have a link between the business environment and the cultural one?
Indeed, it's very important and this collaboration is beneficial, especially for Romanians.

How do you think employees and clients will react?
We expect positive reactions. Maybe in Bucharest and in the big cities it's easy to go to the Athenaeum or to the Radio Hall. There are plenty of concerts of classical music here, but in the smaller towns people don't get the chance to listen to this kind of music too often. We hope they will enjoy these 5 minutes offered by us with the help of Radio România Muzical. Thank you once again for being part of this project.
Interview by Petre Fugaciu
Translated by Nițu Diana-Alexandra,
MTTLC, 2nd year, University of Bucharest