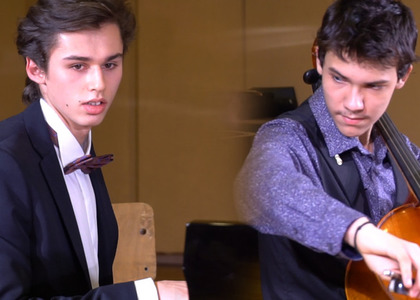 Interview with cellist Valentin Simion
Thursday, 7 March 2019 , ora 13.55

On Tuesday, the 26th of February, during the Tuesday Evening Season at the Romanian Athenaeum, the young cellist Valentin Simion performs together with pianist Robert Creimerman.
How did the collaboration with Robert Creimerman start?
We started collaborating in the autumn of 2017, when he came to me, suggesting we perform together. We started with one of the pieces we'll perform now, Cello Sonata No. 2, op.58 in D Major by Felix Mendelssohn. We can say that this is definitely our favourite play, because it's the one that brought us together.
How has your collaboration developed since then?
We became close friends, we started performing in many places, participating in competitions, performing recitals. It was gradual.
Where did the idea for this recital come from?
In January, last year, I performed at the Main Hall of the Athenaeum, and Mrs. Cristina Sârbu, who is in charge of Tuesday Evening's Season, invited me to perform a recital. I chose to perform it together with Robert.
How did you choose the evening programme?
We'd already had this sonata in out repertoire. After that one, we had another two beautiful pieces. Ludwig van Beethoven's Cello Sonata No. 3 in A Major, Op. 69, which shows the beautiful soul of Beethoven in contrast with his personality. This is one of the most emblematic works for cello and piano. We'll also have Variations on a Theme of the Magic Flute by Wolfgang Amadeus Mozart. So this is going to be a very interesting mixture between the two great composers.
Interview by Petre Fugaciu
Translated by Nițu Diana-Alexandra,
MTTLC, 2nd year, University of Bucharest