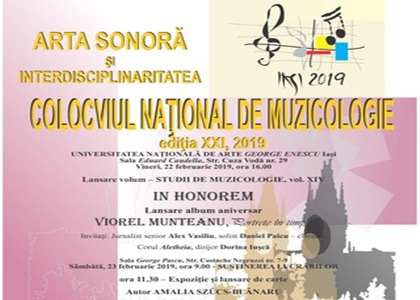 Interview with Maria Popescu about the National Musicology Colloquium
Monday, 18 March 2019 , ora 11.12

The Musicology National Colloquium had its 21st edition in Iași. We spoke to the coordinator of the project, Maria Georgeta Popescu, who is also a teacher at the "Octav Băncilă" Art College in Iași.

How did you organize this edition of the Musicology National Colloquium?
With our hearts, first of all, and with a lot of self-confidence. We started the musicology studies in 2007; this year will mark the 14th volume of our musicology magazine. Initially, the purpose of this colloquium was to teach children how to explore a book, read it, express their opinions and their thoughts in writing or analyse a piece starting from the main instrument, write about it and then present it to us with live samples of the music. This was our number one goal. After that, we, the pre-university and university teachers, teamed up with the "George Enescu" University of Arts. We chose Dr. Gheorghe Duțică, a university professor, as our honorary president, we are working with Lecturer Diana Andron and high school music teachers. Together, we have reached the 14th volume, and for seven years, apart from our motivation regarding the new generation, we have also been giving the teachers themselves a chance to present their studies on the art of sound as it is perceived from an interdisciplinary point of view. Our main theme is the Art of Sound and Interdisciplinarity. For example, this year we will release a book about Gyorgy Ligeti, a Romanian composer who creates mathematical music. Interdisciplinarity, as we see it, allows anybody from any artistic domain that is related or has things in common with the art of sound, to express their ideas.
For the past seven years, we have been trying to promote musicians from the Moldova area. We started with the In Memoriam section, but later we thought it would be better to appreciate true mentors who are still here with us, so we turned it into In Honorem. This year, in this section we will celebrate our former rector, composer, musicologist and pedagogue Viorel Munteanu. The second part of this volume is called Portraits In Time - a photo album of the college years of teachers who have gone on to found schools; for example: founder of the school of musicology, George Pascu (whose school I also attended). And the last section of the volume will be about the 150 year anniversary of our very own University of Iași. These are our objectives for this 21st edition of the colloquium: the release of the 14th volume, containing our gift to Viorel Munteanu - the Portraits in time album - and the release of his books and CD. But there's more. On Saturday, at 9:00, we will start the presentation day. We have 30 presentations of studies in the field of musicology. The volume is split into three. The first part is also dedicated In Honorem, and it consists of open letters to Maestro Munteanu. I will list the authors: Dan Buciu, former rector in Bucharest, Dan Dediu, former rector in Bucharest, Adrian Pop, former rector in Cluj, the priest Constantin Sturzu and the final open letter is dedicated to Alex Vasiliu, who is a senior journalist at TVR Iași. I thank all of these masters and mentors for accepting our request to express their thoughts on the Iași teacher, our Moldavian maestro. The second part is dedicated to teachers - we have teachers from pre-university and university levels. And the most precious part of the conference, a launching pad for the younger generation - doctoral candidates, graduate students, students and pupils; because we have to invest in the future generation that will carry on our legacy.
Interview conducted by Petre Fugaciu
Translated by Gheorghe Roxana Cristina,
MTTLC, 2nd year, University of Bucharest