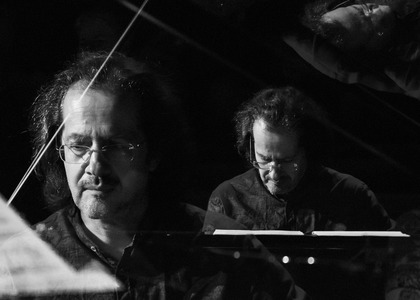 George Natsis talks about the 'Years After Petrucciani' concert
Monday, 18 March 2019 , ora 11.48

The Jazz Season organized by Radio Romania Music in collaboration with the Radio Orchestras and Choirs and Act Theatre continues tomorrow, on February 13, starting at 19:00, with a new event at the Act Theatre. January marked the 20-year anniversary of the death of the French musician, which will be marked in the "Years After Petrucciani" concert. Performing at the concert will be Vlad Popescu on drums, along with contrabassist Adrian Flautistu and pianist George Natsis. We talked to the latter in the following interview:

You have participated in many of these annual concerts dedicated to Michel Petrucciani, so I would like to begin by asking you what this musician means to you.
I would mention two aspects: first - Petrucciani the musician, and second - the presence of Petrucciani's music in our concerts. First of all, I consider him a jazz romanticist. He walked on a unique path and had a unique style that is easily recognizable. He was an introverted person, a man who suffered a lot - as you may well know, he died too young, but he left an extraordinary legacy, unique in its own way. Now we include a Petrucciani recital or this project known as the "Years after Petrucciani" during the Jazz Season at the Act Theatre. If I'm not mistaken, it's already been almost ten years since we started doing this. Of course, we had approached Petrucciani's repertory before starting the Jazz Season, so we've been performing this repertory for more than ten years. Petrucciani also put his stamp on some well-known jazz standards, but we are focusing on his own works, on his compositions, because I believe that these are the things that represent him the most, they best show his romantic side that I mentioned earlier. Although our repertoire includes at most 20 songs that we alternate, two amazing things always happen in February. We come on the stage at the Act Theatre with the same emotions every year and - it's very interesting - despite knowing that they are about to listen to the same songs they had already listened to the previous year, the audience always comes with the same enthusiasm and rewards us with the same applause.

But we know that you always try to bring something new to your concerts.
Last year we had two or three new songs. We searched and found a few songs of his that we hadn't known know about. We will perform them again this year. The novelty comes from the ways in which we approach the songs. Of course, when you play a standard in tribute to a certain musician, a certain interpreter, you have to play it from the perspective of the respective musician. The moment we take Petrucciani's songs, we can allow ourselves to have our own vision regarding his repertory, but at the same time, I for one can't stray too far from what represents Michel Petrucciani's personality, from his style, from his romantic touch. And it seems like the audience wants the same thing. When it comes to jazz, it is a known fact that any performance of the same song can bring something new, depending on your mood and the musical chemistry between the performing musicians. In our case, being a well-established trio for so many years, we do a lot of spontaneous things, and that is normal.
Interview conducted by Ana Diaconu
Translated by Gheorghe Roxana Cristina,
MTTLC, 2nd year, University of Bucharest