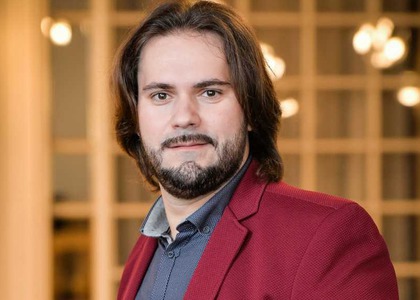 Interview with Florin Estefan, general manager of the Romanian Opera House from Cluj-Napoca
Thursday, 21 March 2019 , ora 13.25

On Saturday, the 9th of March, starting at 7 p.m, the Annual Opera Ball in Cluj-Napoca will take place
How did you prepare for this year's Opera Ball?
This edition is just like the previous one. We have the same format from last year. This event takes one week of hard work in order to be as luxurious as we want it to be. Moreover, as we want everything to go according to plan, we need a lot of human and financial resources.

What about the evening's programme?
The evening programme will be diverse. First of all, we'll have the two soloists, two special guests, soprano Anita Hartig and tenor Teodor Ilincăi, who will perform under the baton of maestro Vladimir Lungu. Aside from that, we really wanted to have two new beginners. These are two young women, still students at the National University of Music in Bucharest. We call them beginners only because they are at the beginning of their career, but for some time now both of them have been collaborating with the Cluj Opera House. They are soprano Lorena Puican and mezzosoprano Alexandra Leșiu. The programme will incorporate these guests, soloists and many dance and ballet performances. We'll also have two novel performances by bandoneon player Giancarlo Palena from the London Royal Academy of Music, who will have two pieces, one for bandoneon and one for orchestra. We wanted a mixture between well-known hits and less known acts or pieces, in order to expose the audience to another kind of repertory, a repertory people don't usually meet at a gala or in such types of cultural events.

I take it there will be an award ceremony as well?
Yes, indeed. There will be four prizes. The first prize granted by the Transylvania Leader Foundation, our partners, because this Opera ball is organized by the National Opera of Cluj in partnership with Transylvania Leader Foundation, which helped us a lot. The decision has been taken by the Club of the Former Rectors from Cluj. Then, the next three prizes will be granted by the Opera. The prizes are as such: Lya Hubic Prize for the Best Female Singer, Popovici Bayreuth Prize for the Best Male Singer and Alexandru Fărcaș Prize for a debuting artist.

Taking into consideration the many editions you have had so far, how has the Cluj Opera Ball evolved over the years?
The Cluj Opera Ball was born somewhere in the eighties. It has been growing since the nineties, when it was taken over by Doctor Matei Miko, until now. Last year, we took it over and now it is in the National Opera's custody, thanks to our generous benefactor, Mr. Daniel Metz.
The Cluj Opera Ball had an upward path for sure. It got famous in Romania thanks to Doctor Matei Miko's efforts. Last year we changed the format in a very conscious way, looking at the way the Vienna State Opera House and the Hungarian State Opera House organized such events. Last year's edition was very successful. I found its format interesting for the guests. As such, following this model, we were able to set a high and successful standard.
Interview by Petre Fugaciu
Translated by Nitu Diana-Alexandra,
MTTLC, 2nd year, University of Bucharest